Design studio apartment of 40 sq.m.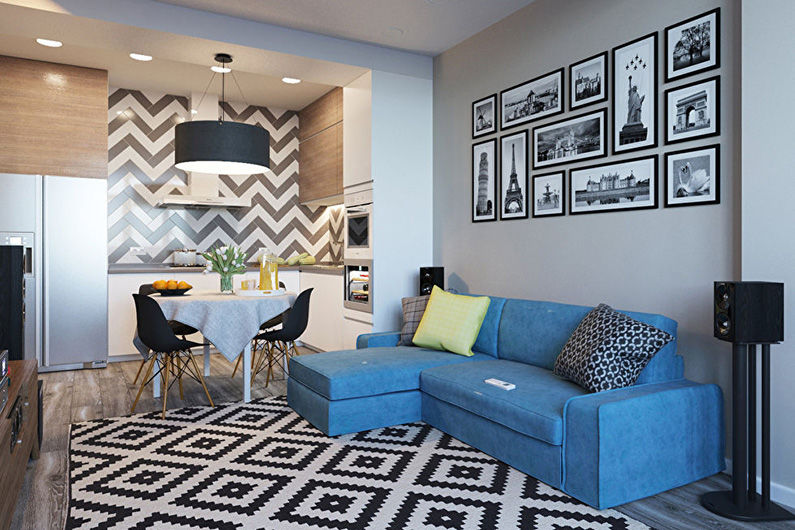 Admire the huge houses with chic design, living at the same time in a small apartment - many familiar situation. But the harsh reality is that not everyone can afford a house with a large area, giving priority to small-sized spaces. Modern interior design continues to prove that it is - not a bad option. Even in a one-room apartment of 40 sq.m. you can create a cozy and comfortable "nest," and we will talk about how to implement it.
Design features "malogabaritok"
Apartments with a small area - a special "client", which requires an appropriate approach. To begin, you must determine who will be staying in the apartment: a young bachelor, or a large family? In the first case, the perfect space with open floor plan in which there is no need to issue separate private areas. In the second - a bit more difficult, but not hopeless. Proper zoning rooms using curtains, partitions of different heights and functional furniture help divide the area so that there is enough for everyone.
Next, you should decide with the style. Small apartment here also puts forward special requirements. Better to prefer a style that does not involve a large amount of furniture and decor - they "eat" the precious meters already small room. For example, the classic style of Provence, or will look ridiculous, but the minimalism or loft space can expand and adapt to the specifics of the plan.
In the modern interior design already exists a lot of tricks that will visually enlarge a small area. For example, the mirror surfaces create an effect of the "second dimension" and like prolong room. Bright colors creates boundaries, while dark colors on the contrary - can narrow the apartment. But that does not mean you have to be afraid of black color and in every way to avoid it - at competent planning it can give the interior a feeling of mature, without affecting the space.
Owners of high windows should definitely take advantage of this and, if possible, not to create barriers to natural light - better if it fills the entire room.
A word of advice at last - it is not necessary to score the apartment unnecessary things, and it is better to do only the bare essentials.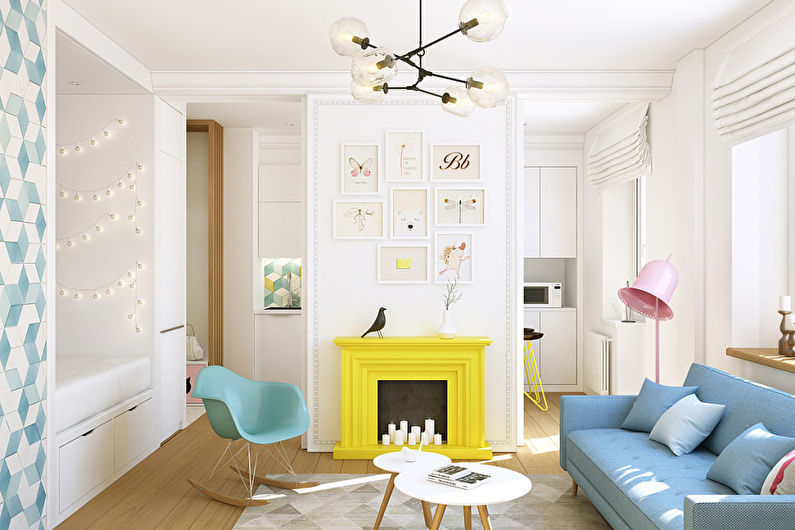 One-bedroom apartments of 40 m2 - photo
To better secure the material suggest you familiarize yourself with bright design project apartments in which embodied all of the above recommendations.
1. Stylish design studio apartment of 40 sq.m.
Designers Volgograd Solo Design studio managed to stylishly and harmoniously arrange the "odnushku". A small area of ​​40 square meters, they have placed a bedroom, kitchen, living room and work area, taking advantage of the principle of zoning.
Due to the absence of massive walls and walls, flat visually seems more and does not create a sense of isolation. The bedroom is separated from the rest of the curtain while being its continuation.
open space principle allowed to use a muted dark colors even in a house with such a small quadrature. But in this case the gray walls and black furniture in place in order to reduce the space, create a cozy atmosphere. A large windows let in natural light and filled the room "air".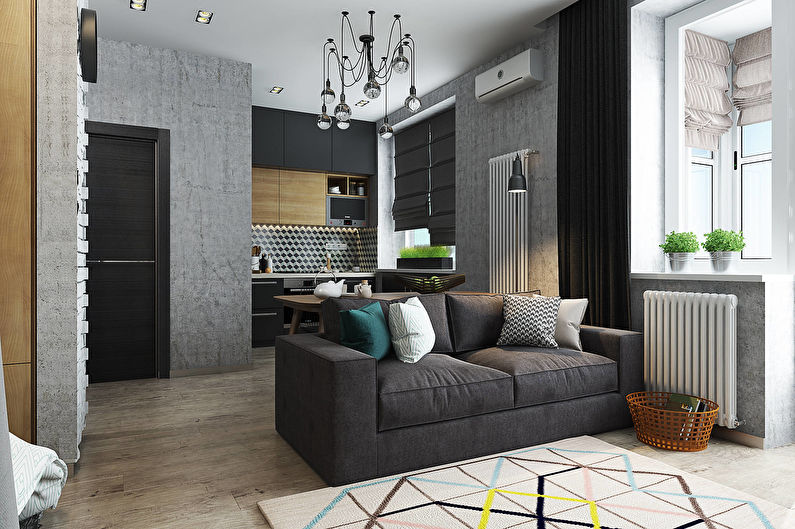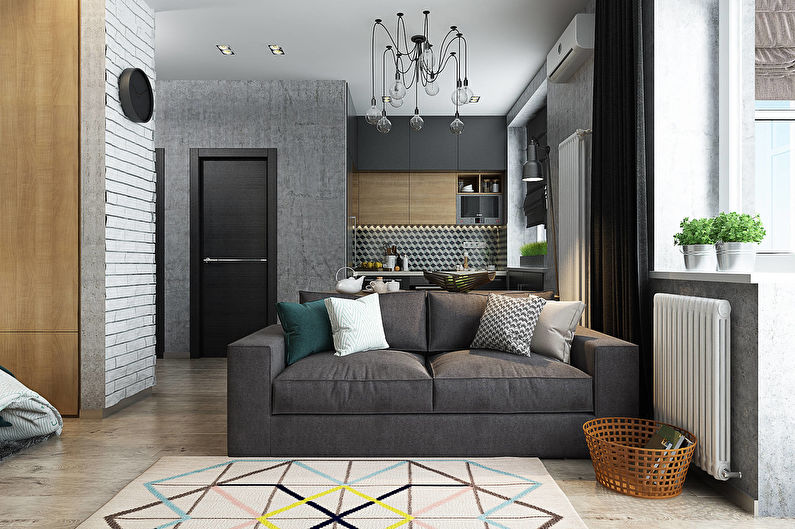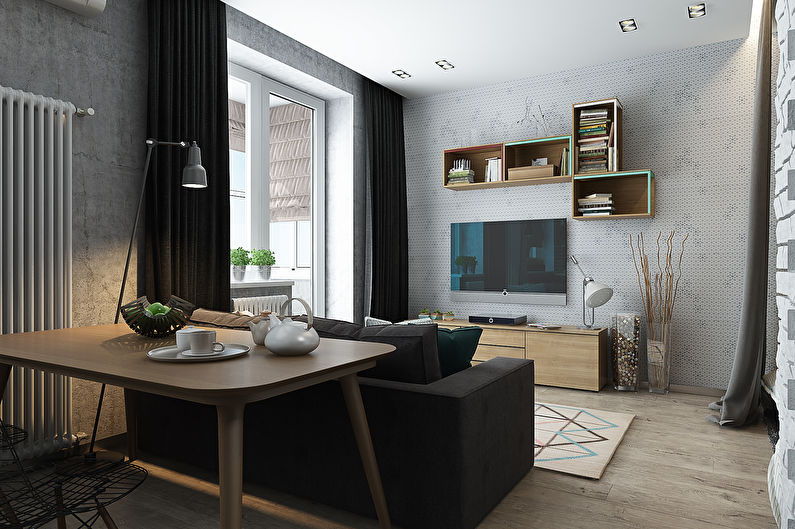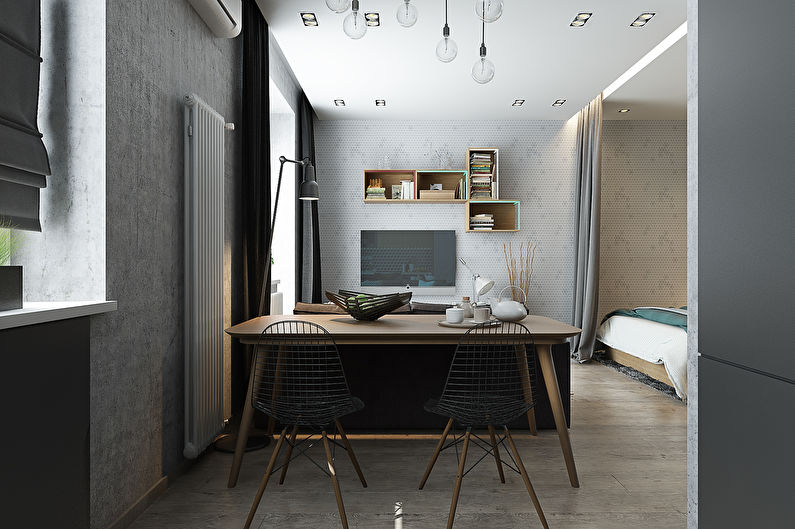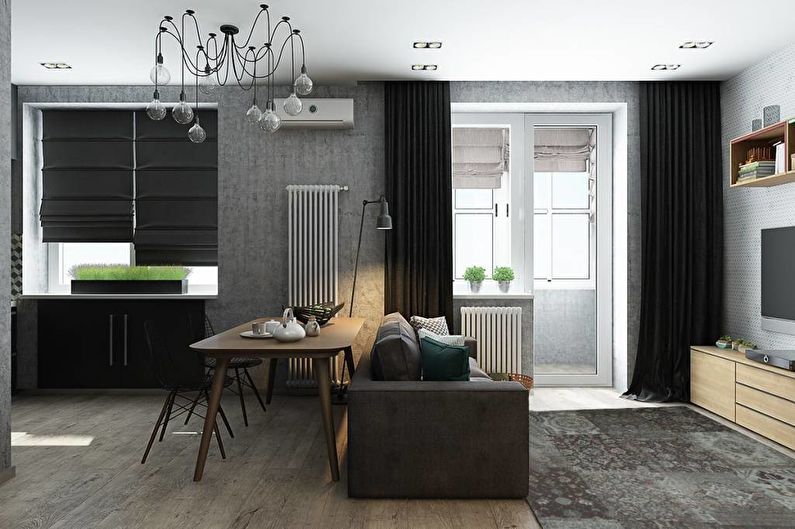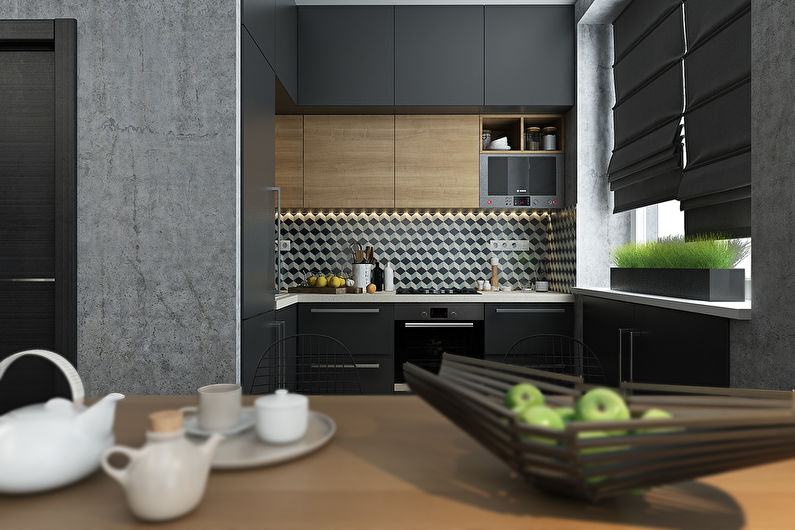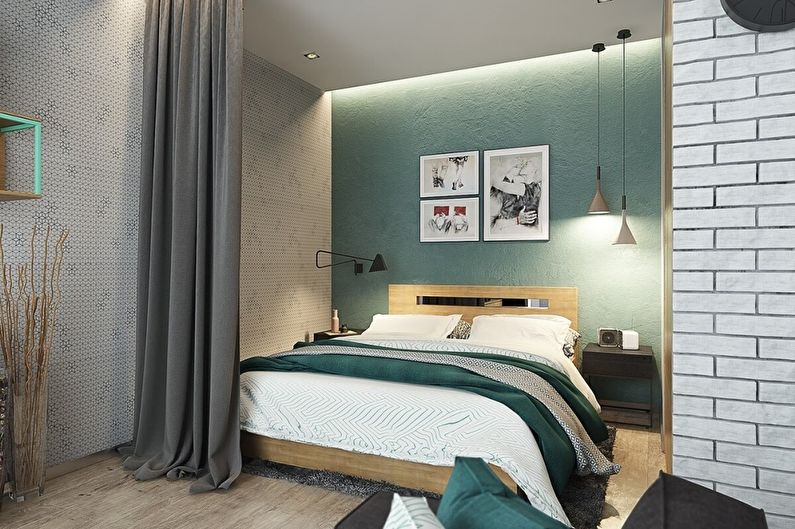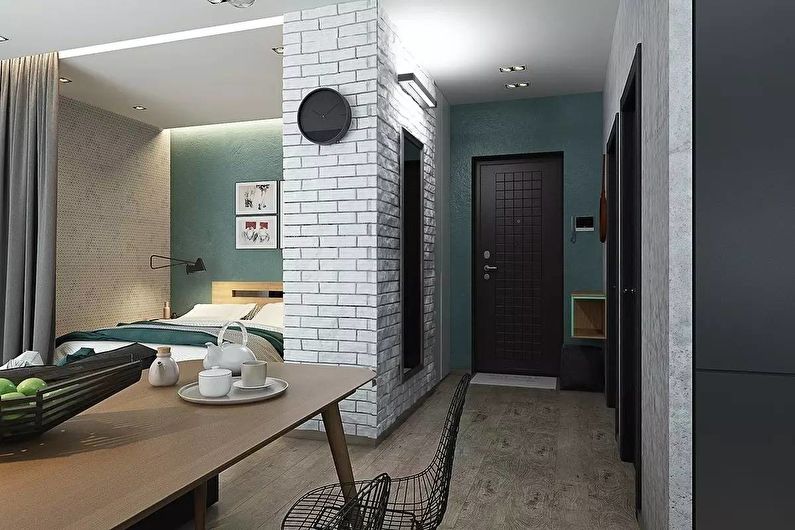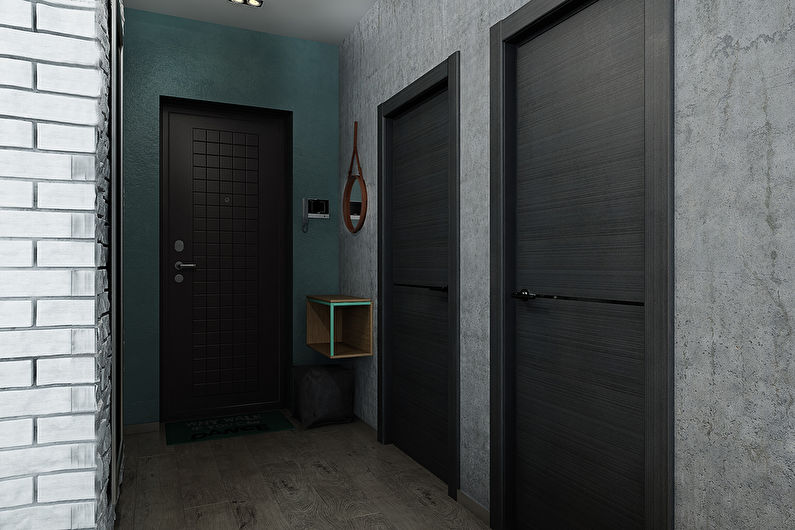 2. Brutal loft in a studio apartment of 40 sq.m.
Another example of what should not be afraid of dark shades. The facility is located in Moscow and is a one-room apartment of 40 sq.m. with elements of the loft. The project was designed by the design studio Int2Architecture, in front of which had a difficult task: to quickly create stylish and presentable housing for rent.
Limited budget only complicates the implementation, but the designers have used non-standard solutions and designed the most stylish accommodation and cheap.
Painting the brick walls, open wiring, concrete ceiling - all this will save on finishing and closer to the style of loft. The interior is unusual vintage pieces of furniture - such as dining chairs or podstolya basin, which were purchased at a flea market.
The apartment is almost no massive walls and all living areas are presented in the same space. But because of this it does not create a feeling of clutter items - thanks to the integral style and the rejection of the traditional large kitchen.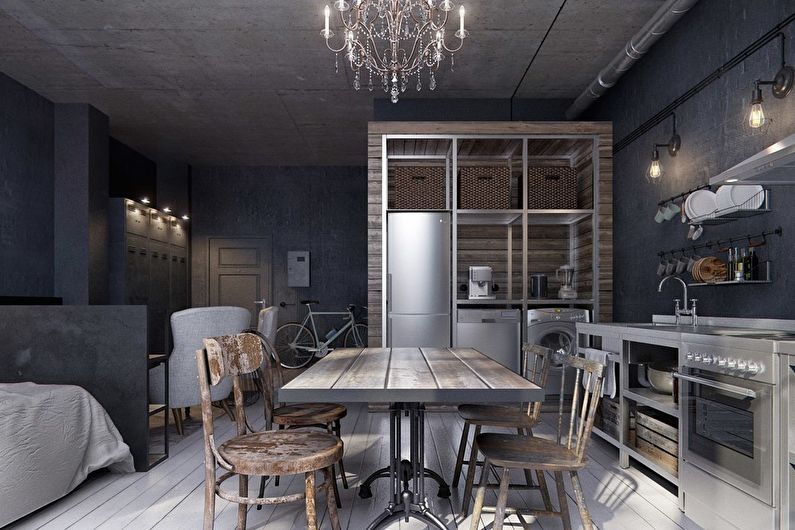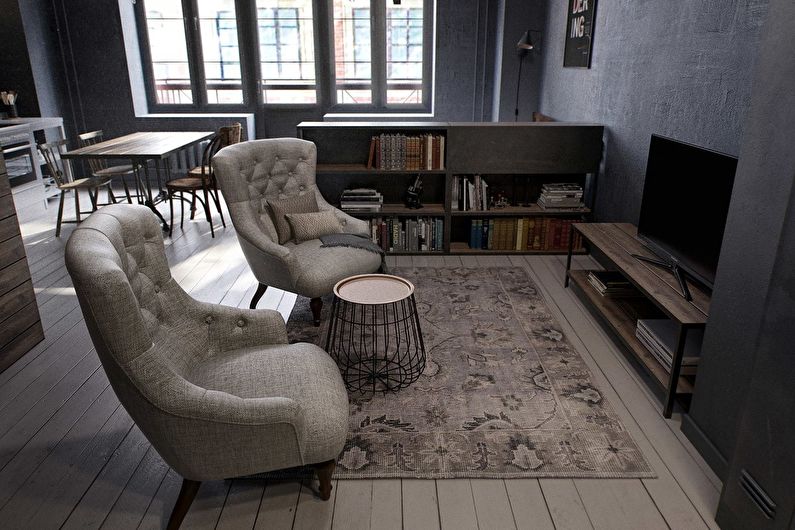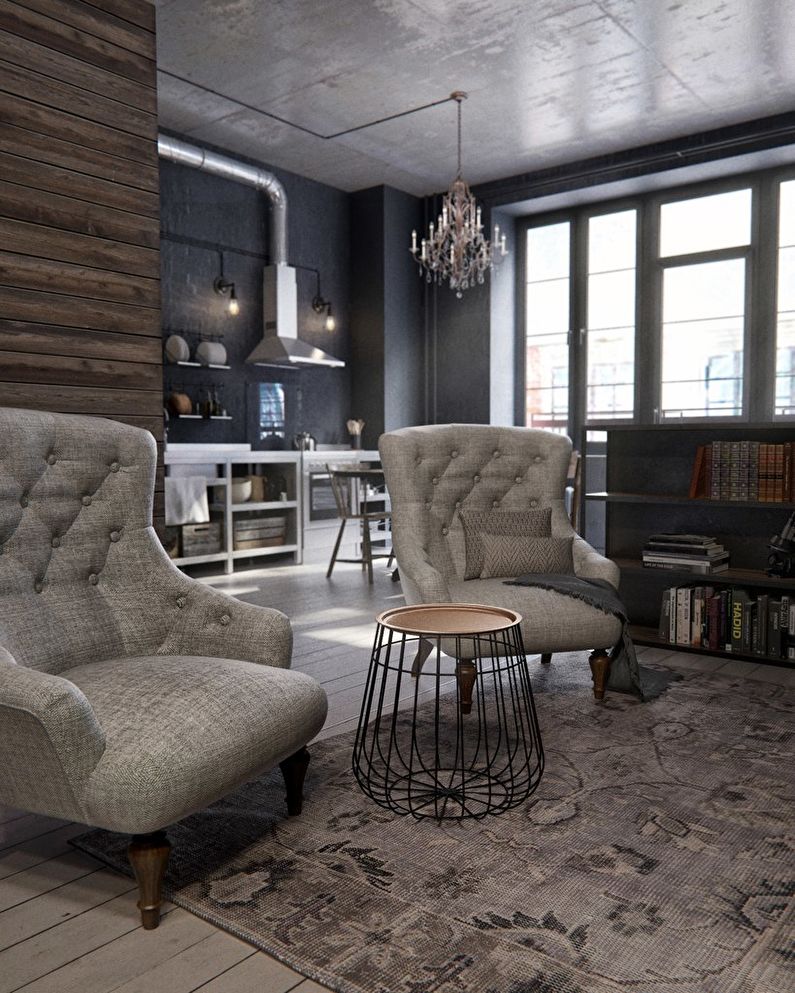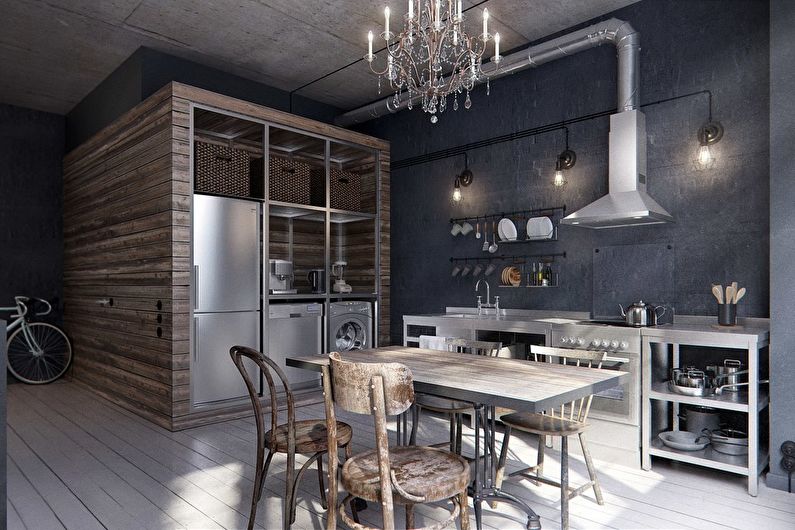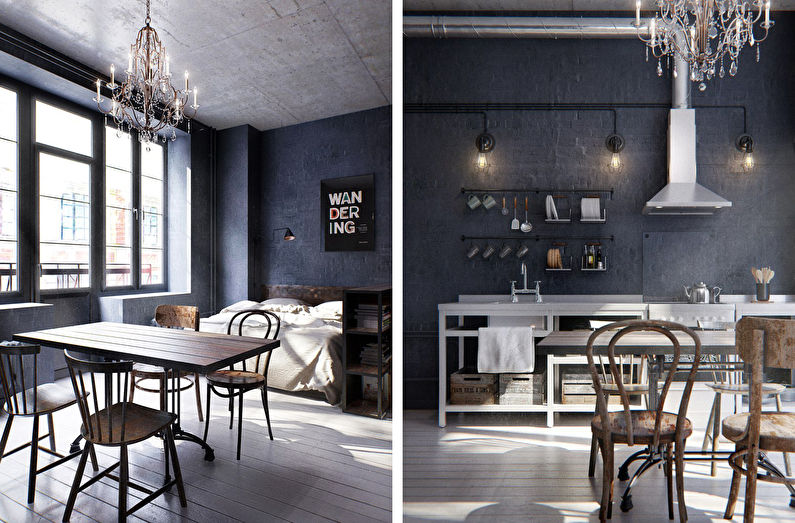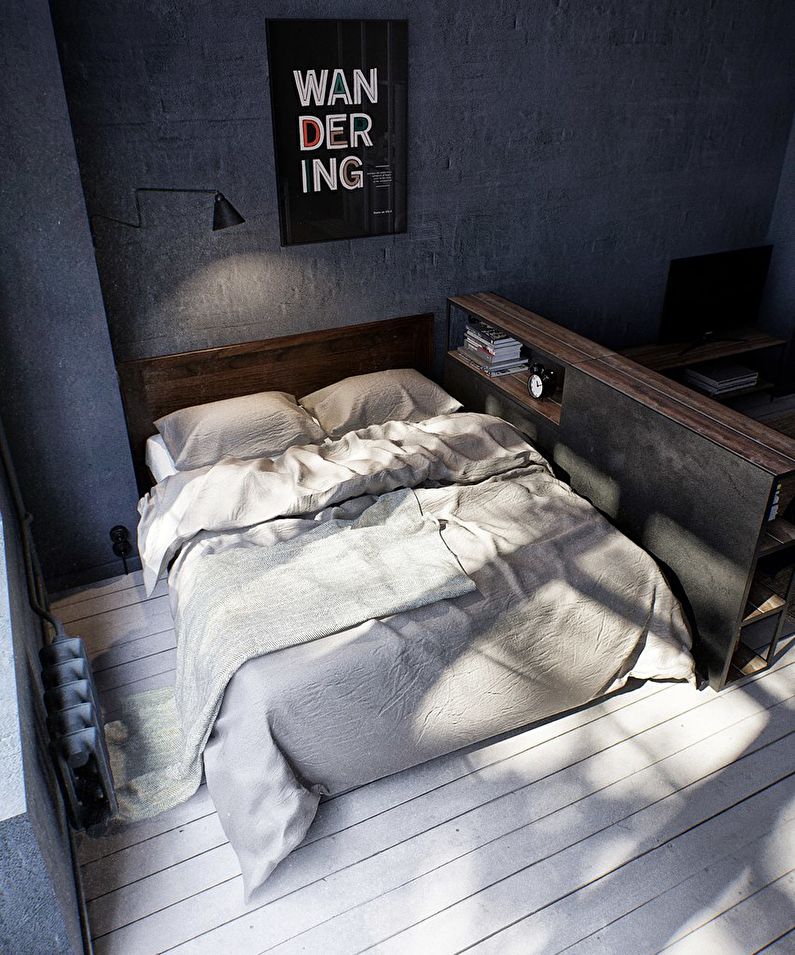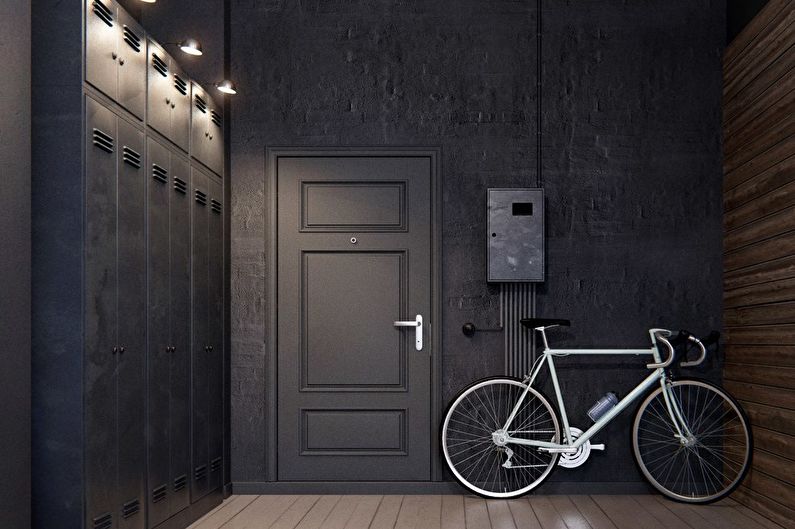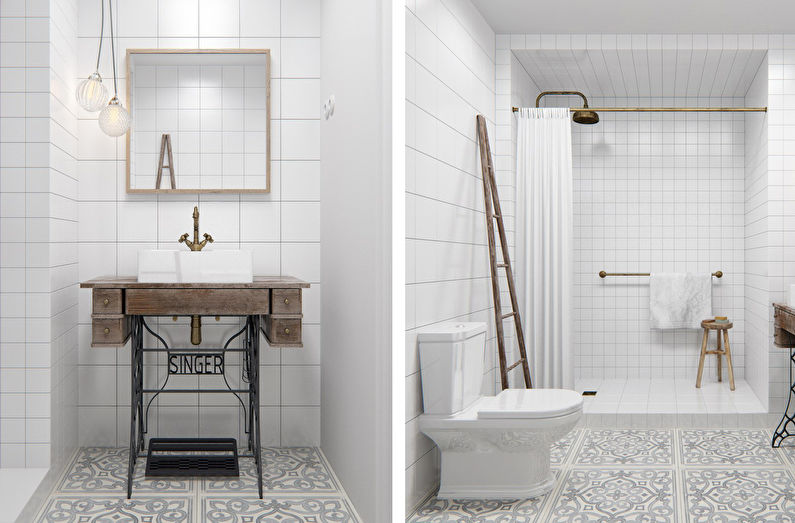 3. A cozy little nest - Design studio of 40 sq.m.
In contrast to the previous project from Int2Architecture, this apartment done in bright colors and decorated for a comfortable stay of a young couple.
Designers have used the principle of rational zoning, which succeeded to create a kitchen area, dining room, living room, bedroom and office - all of it, we recall, in a small studio apartment of 40 square meters!
The project includes many interesting ideas for a small area. For example, a bedroom cabinet combined into one zone and placed on the pedestal, which includes additional storage space. High partition separates the private from the living area, but does not create a barrier to the penetration of natural light. Mobile dining area is easily moved by opening additional space.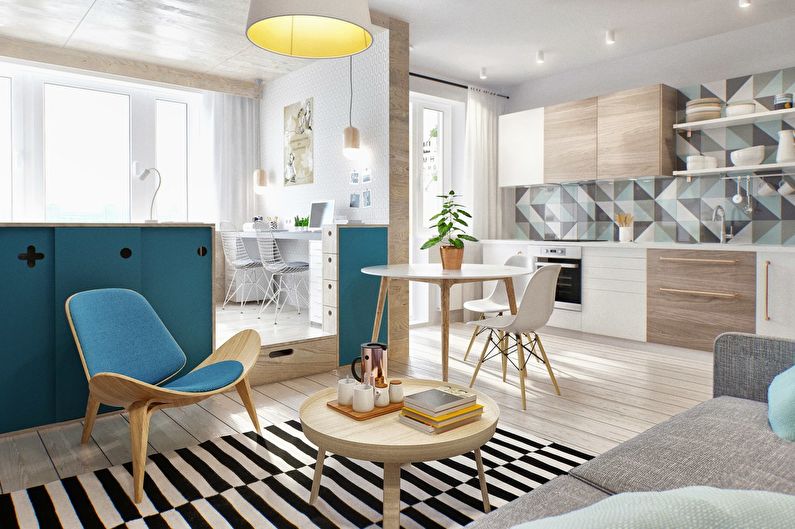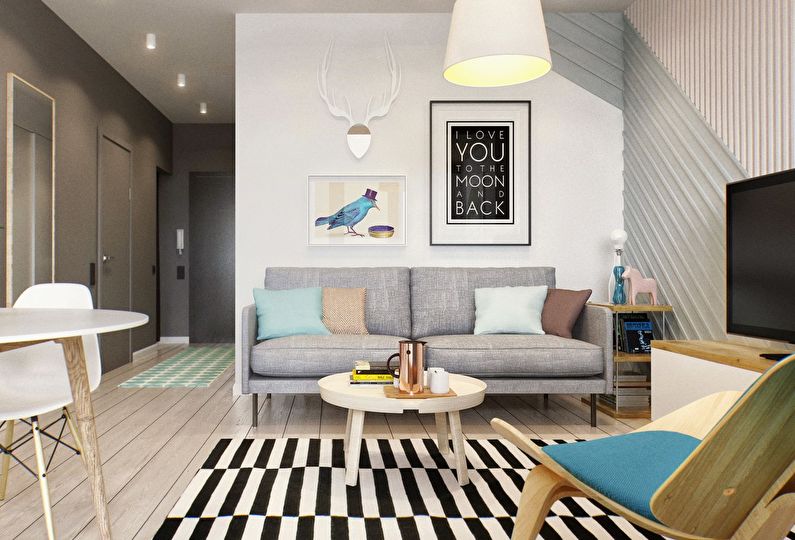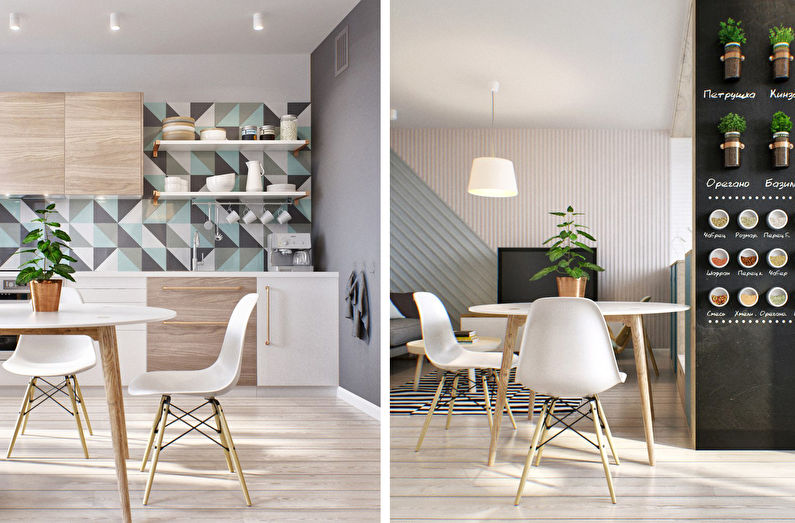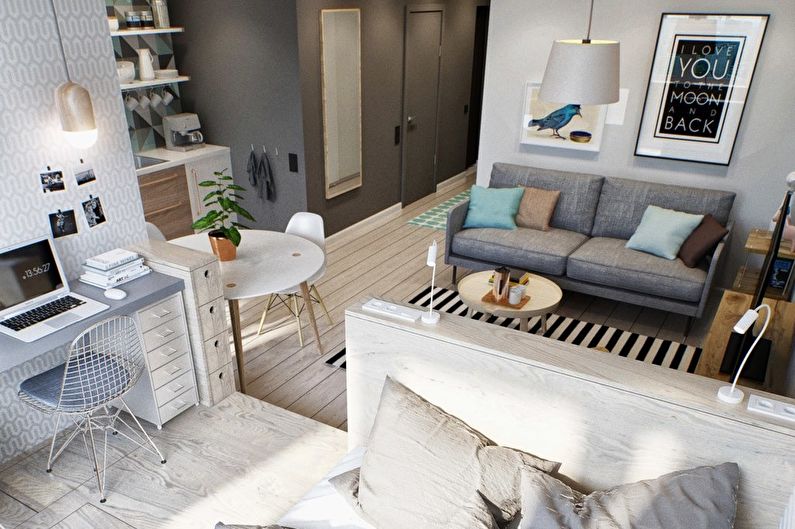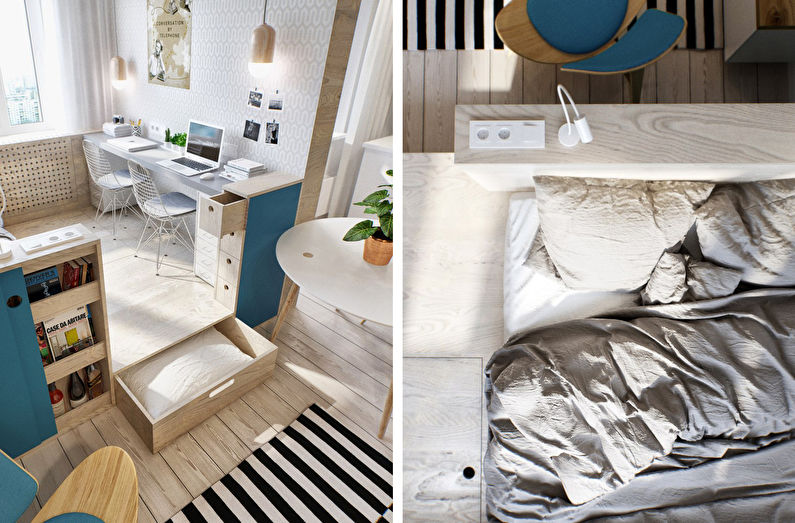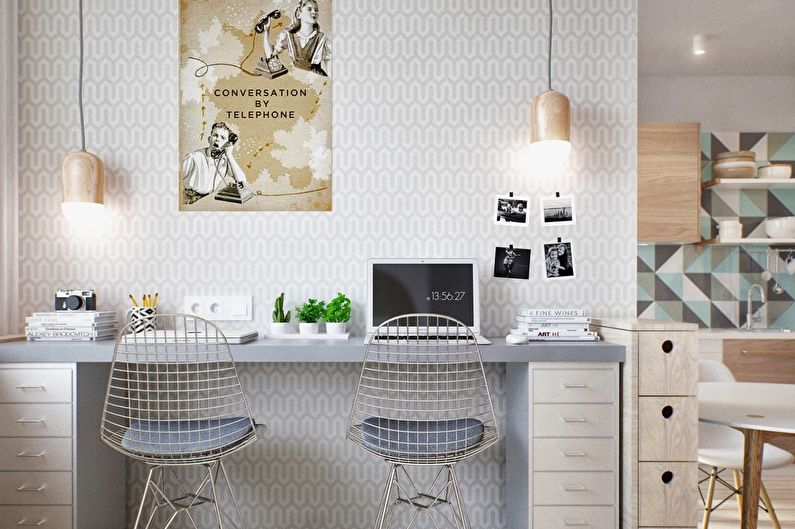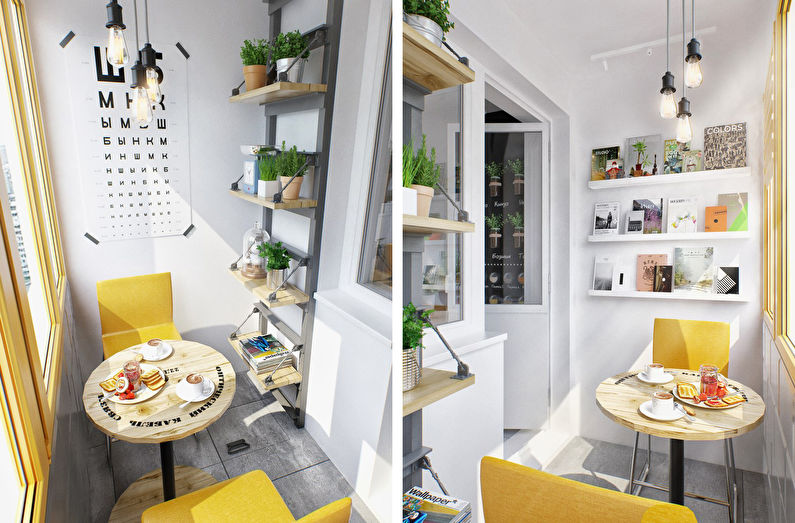 4. Design a studio apartment of 40 sq.m. in the attic
Wonderful project, implemented by designer Evgeny Ostrovsky - it is an apartment in "Danilovskaya Manufactory" in Moscow. The task of the spacious design of this housing complicated by the fact that it is an attic, and therefore part of the space is narrowed due to the sloping ceiling. On the other hand, it looks cozy attic space and opens up new possibilities for planning.
Loft style interior decoration was not just chosen because he fits perfectly into the atmosphere of the attic and allows to write functional and practical details. For example, to expand the area used furniture-transformer. Near the front door is a system of storage, which flows into the kitchen area. The presence of mirrors in the closets to visually expands the space.
Designers managed to place here all the necessities of life, and even a fireplace - it would seem a luxury for a small-sized "odnushki".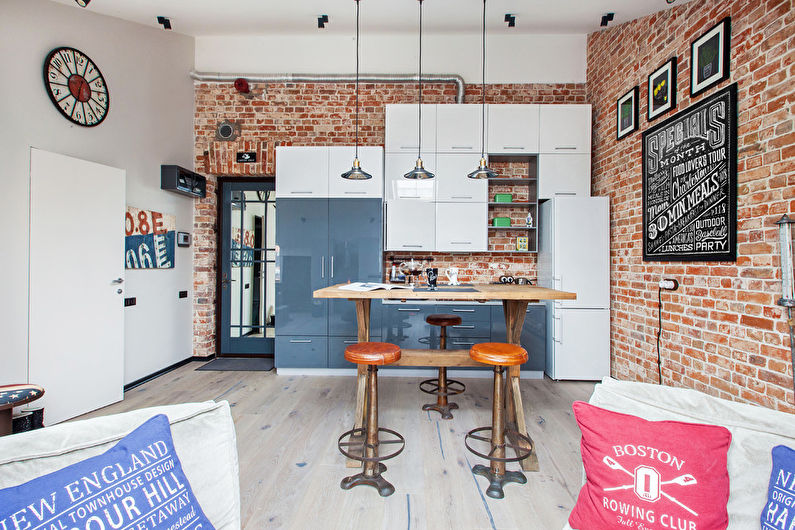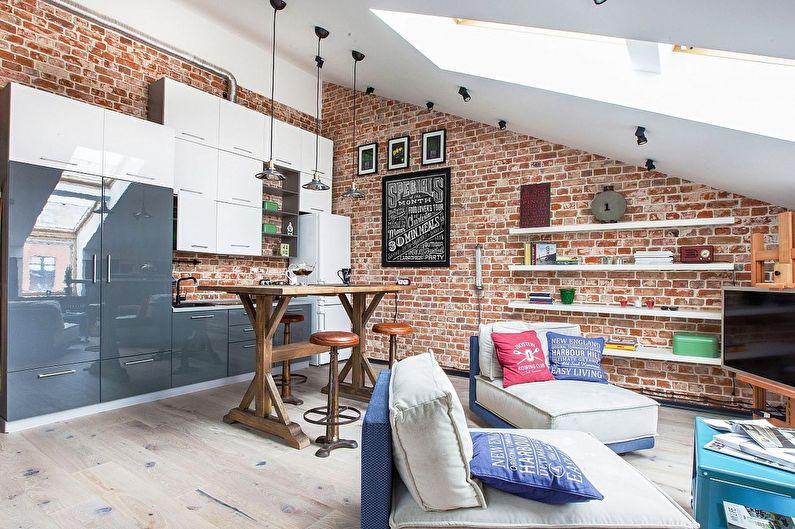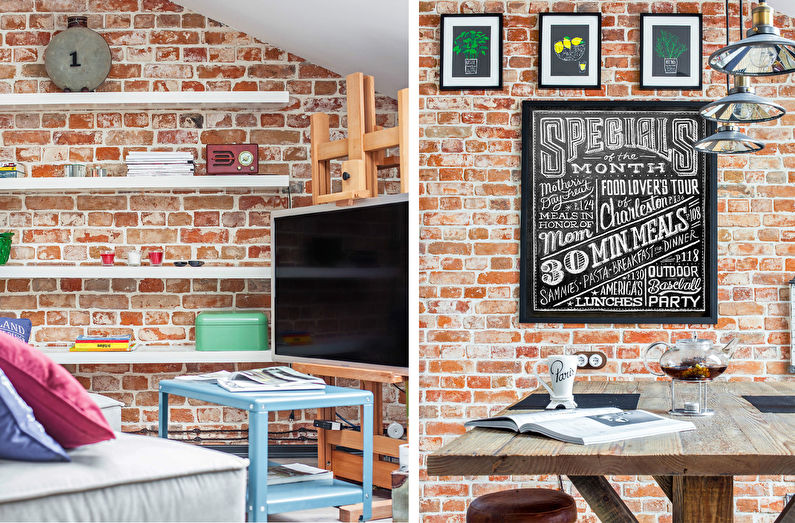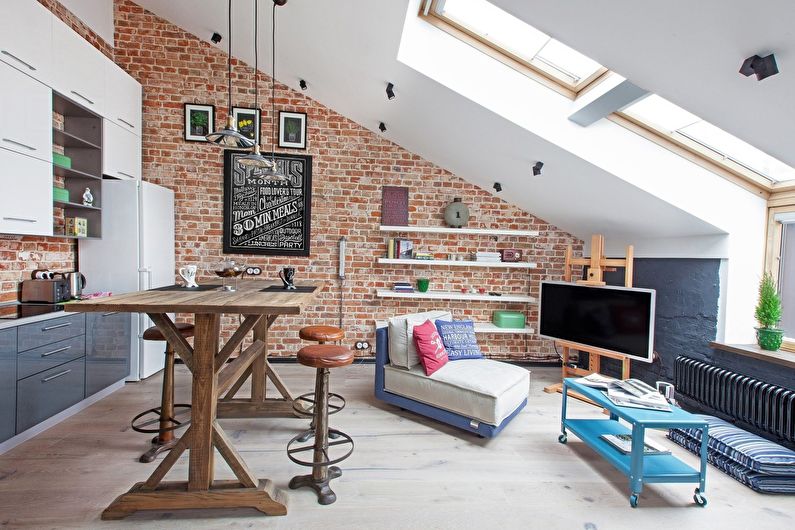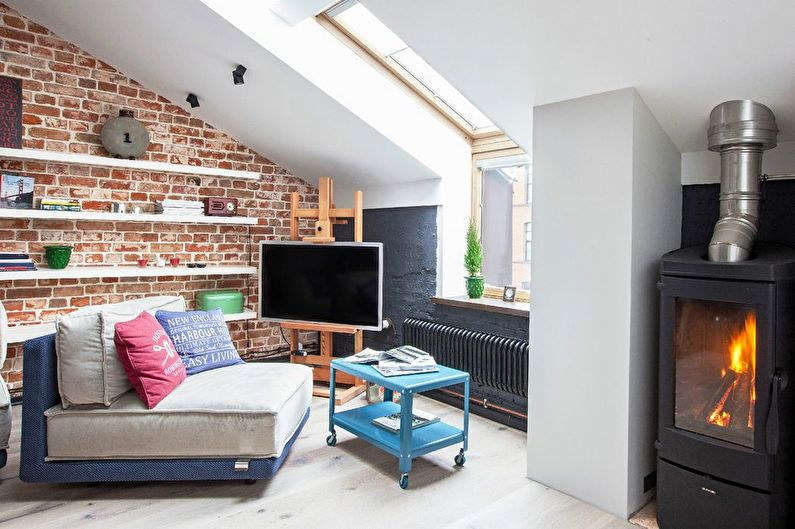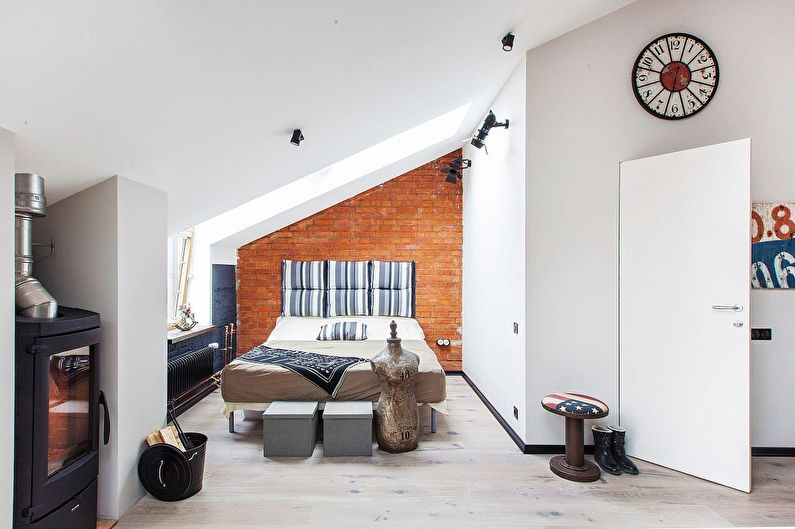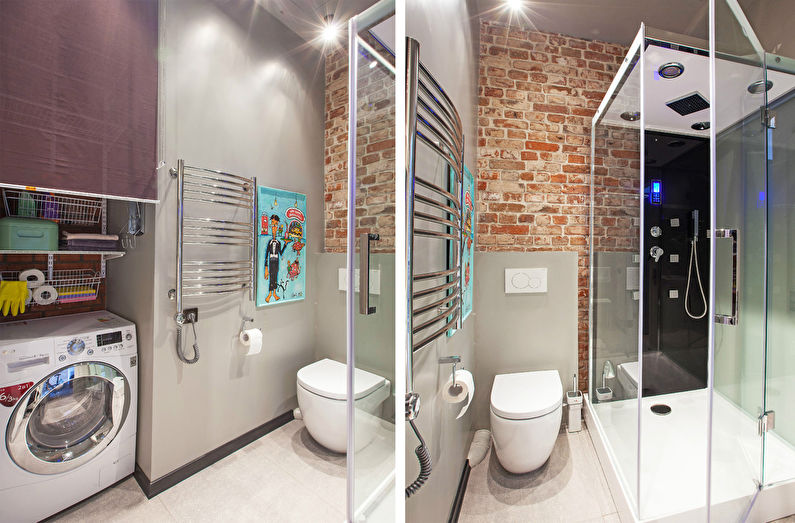 5. One-room apartment of 40 sq.m. for a family of three
It seems that a small apartment with one room is not exactly suitable for a comfortable stay of mother with two children, where each family member needs a personal space. But the designer Irina Yezhov decided to prove that this is not the case, and offered their solutions to the problem.
It all began with the redevelopment: in a single room was elevated podium where a bedroom and workspace for one of the children. Detached area with functional cabinets of different heights, and the very hill is also suitable for storage.
For a second child have warmed loggia and turned it into a place for work and leisure.
Folding sofa housewife uses as a bed at night.
Bright colors and multi-level lighting system fills the interior of the apartment space and diversity, visually increasing the small area.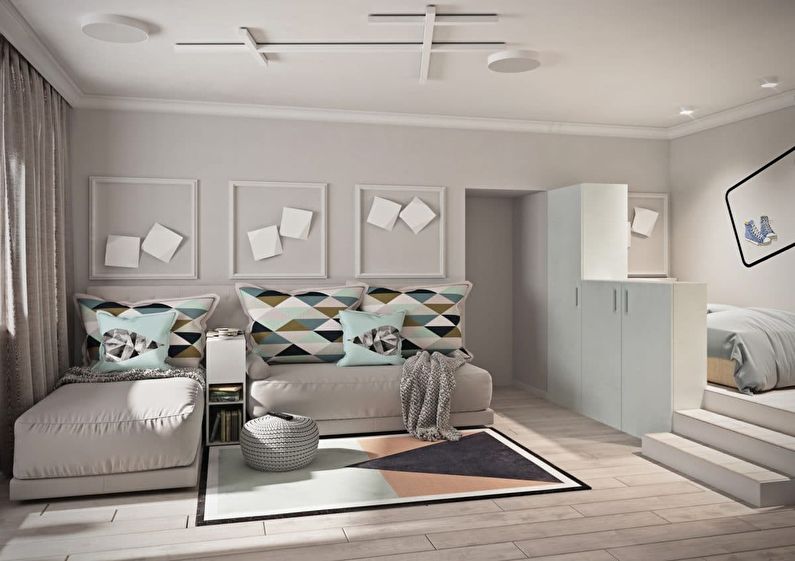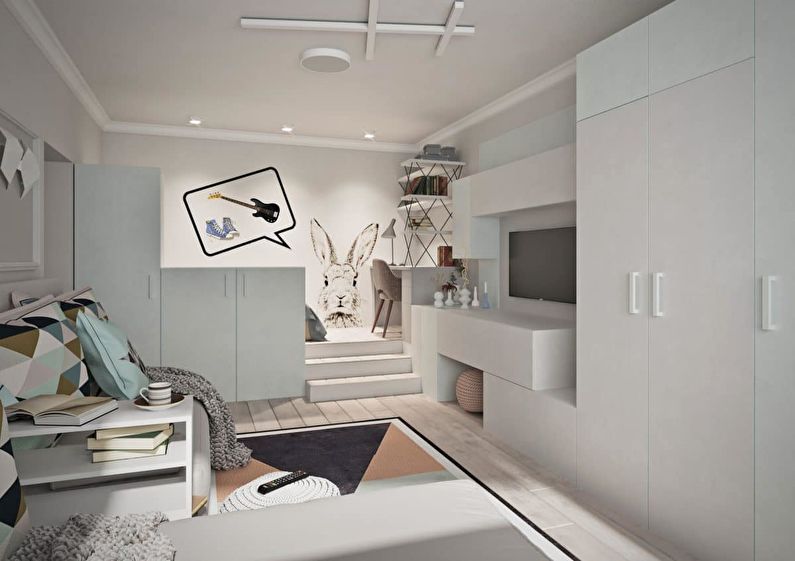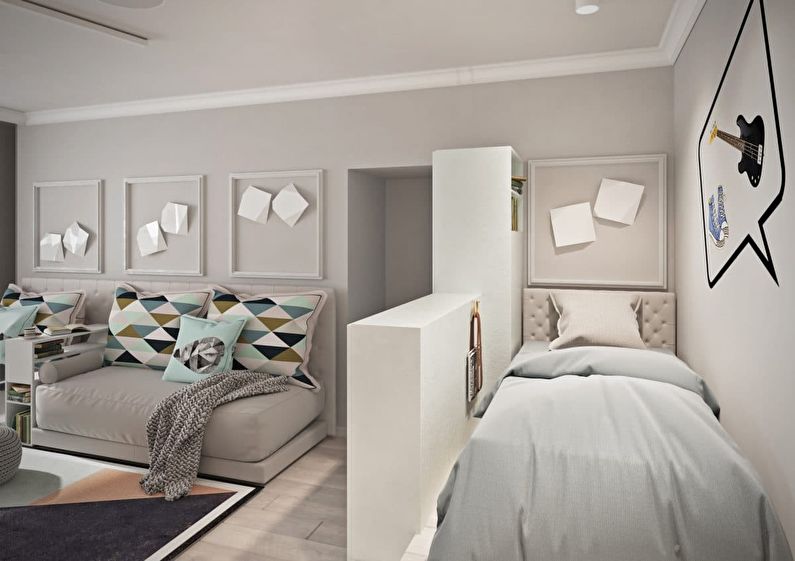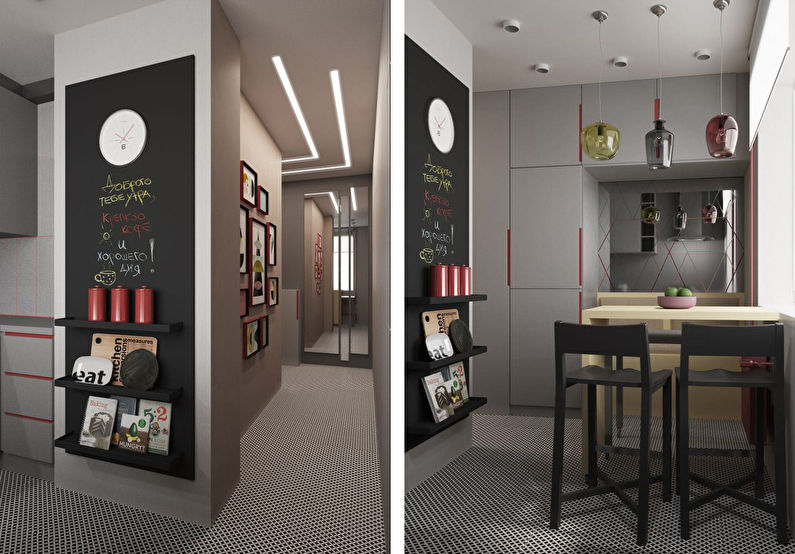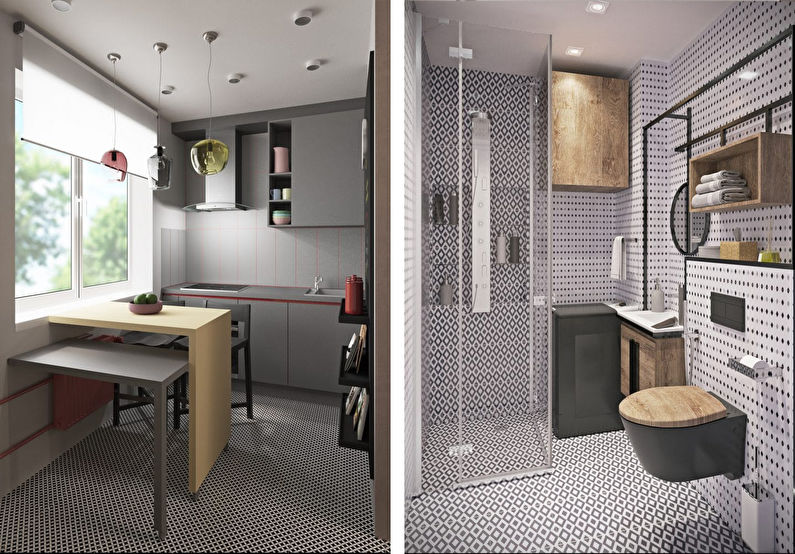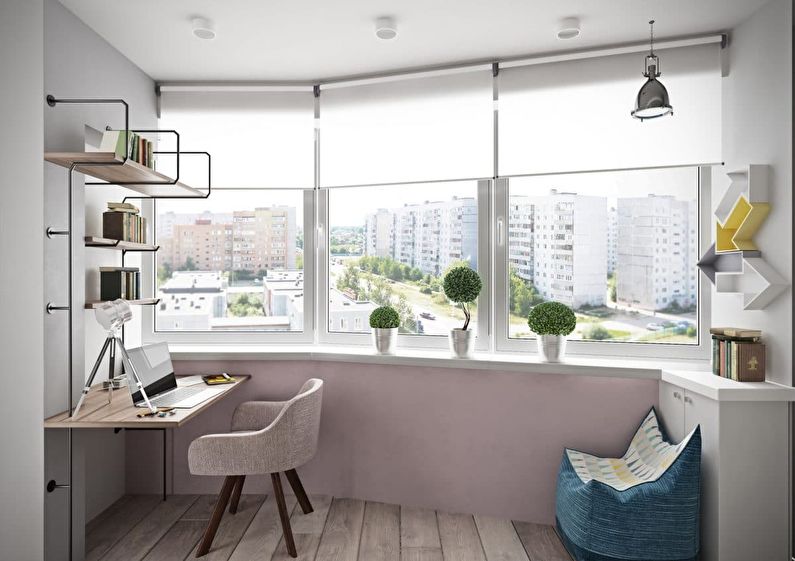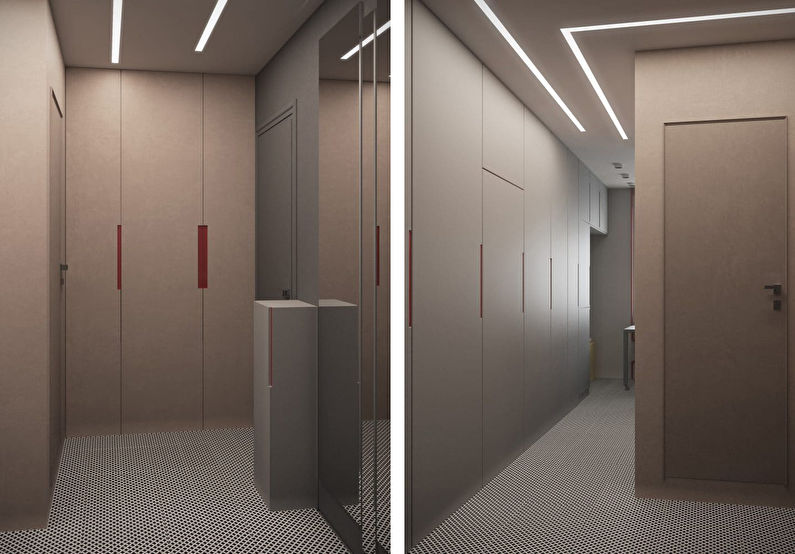 6. Modern studio apartment of 40 sq.m. - Interior Design
Ukrainian studio Rover Building Company has shown that it is possible to create a functional and bright interior, even in a small studio apartment. Colorful design and cozy decor elements "animate" the space and make it possible to forget about its area - only 40 m2.
Studio layout - great for housing of this type. The lack of walls is offset by low partitions.
As in other projects, the bedroom is placed on a pedestal, protect it by a glass wall. On the one hand, such a structure does not create barriers, and on the other - draws a smooth boundary between the living and personal areas.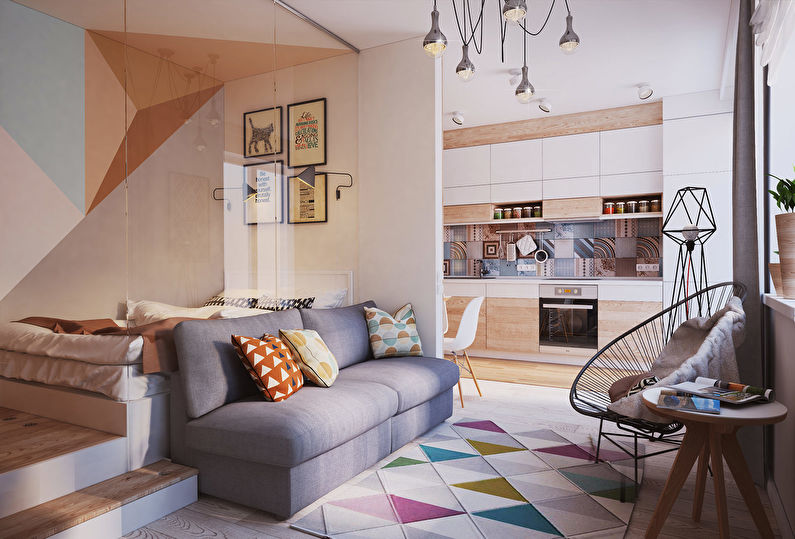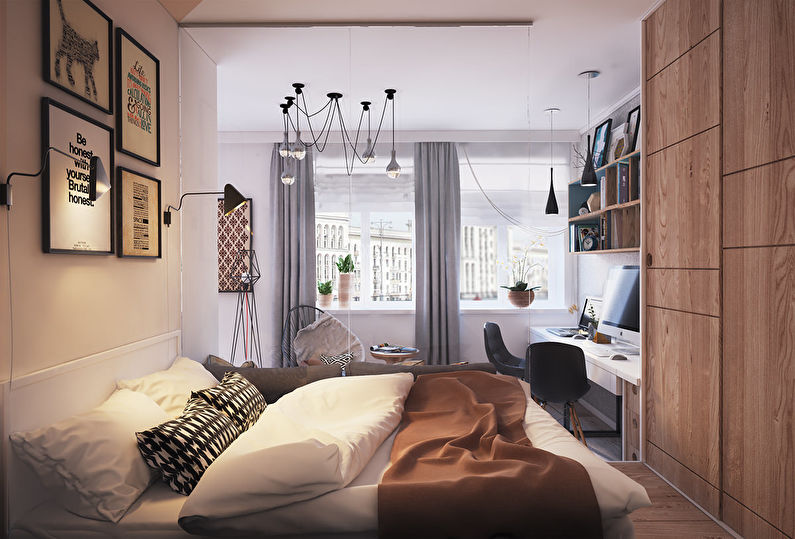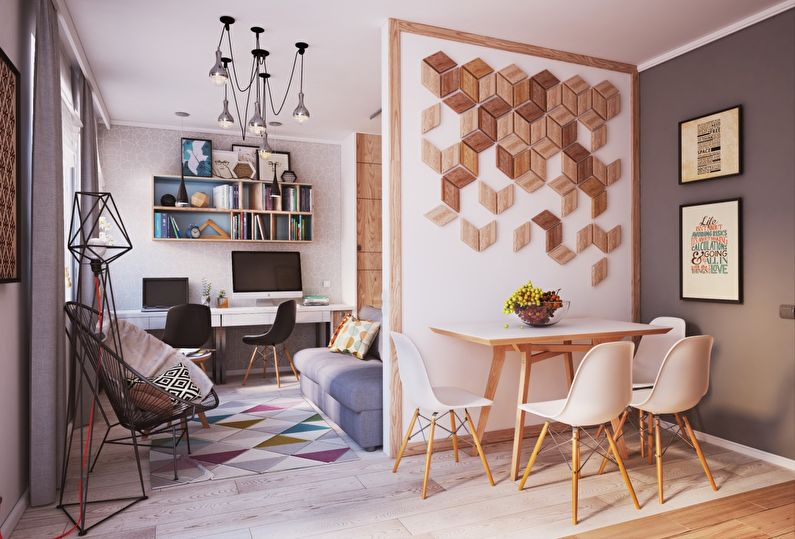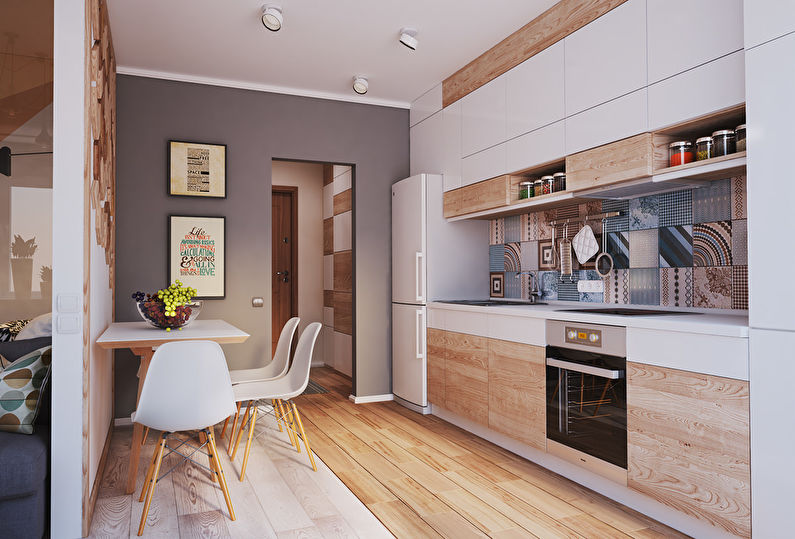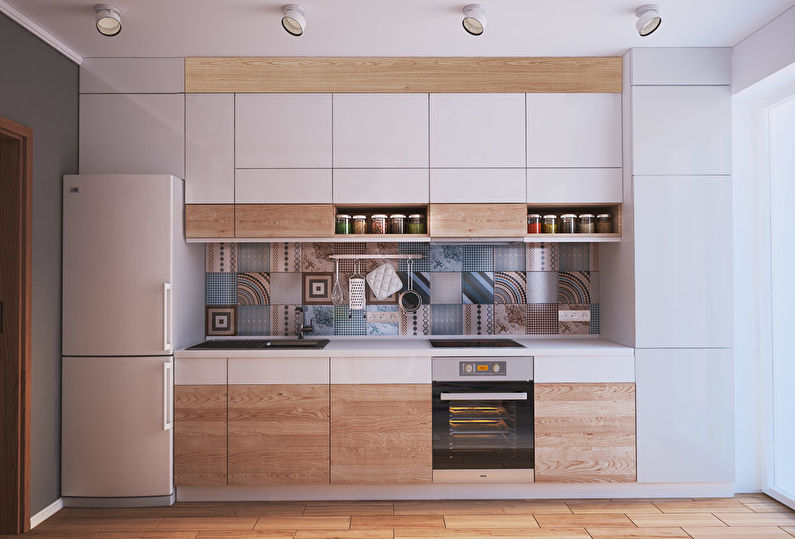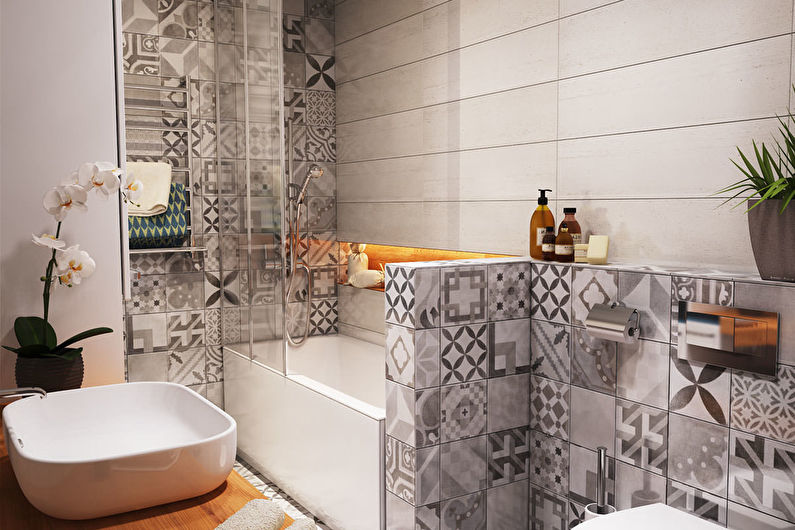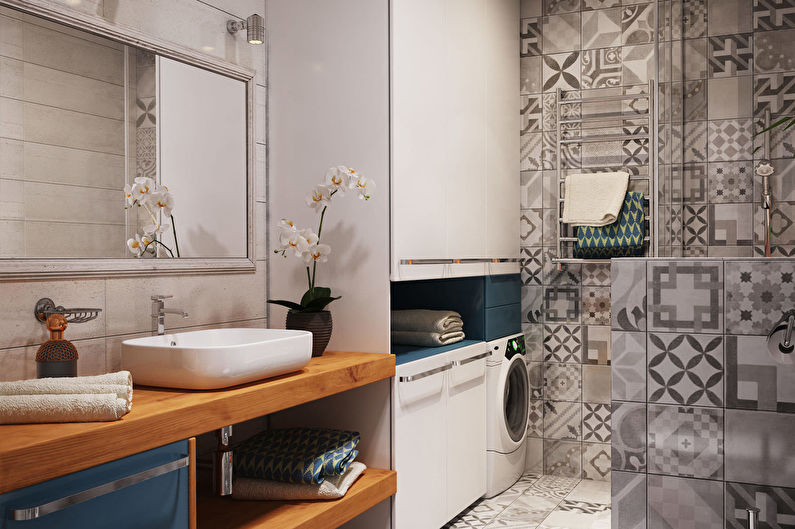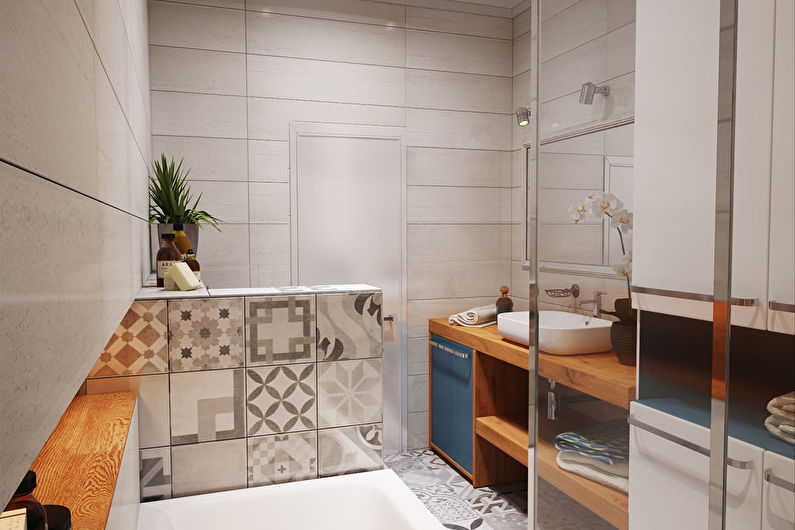 7. Design studio apartment of 40 sq.m. in Kiev
The object is located in the Kiev LCD "Comfort Town" and is a small studio apartment 40 sq.m. He worked on the project Ukrainian designer Irina Sazonov.
Private area here can serve as a separate room because of blackout curtains and a multifunctional room. The fact that she holds a job, a bed and a small dressing room.
By the way, in order to save precious square meters of designer carefully avoided bulky cabinets and drawers, preferring the open shelves and a hidden storage places.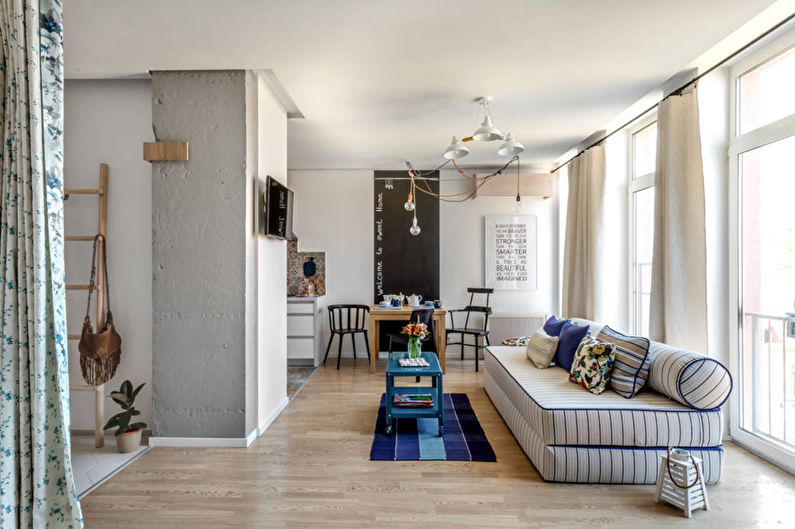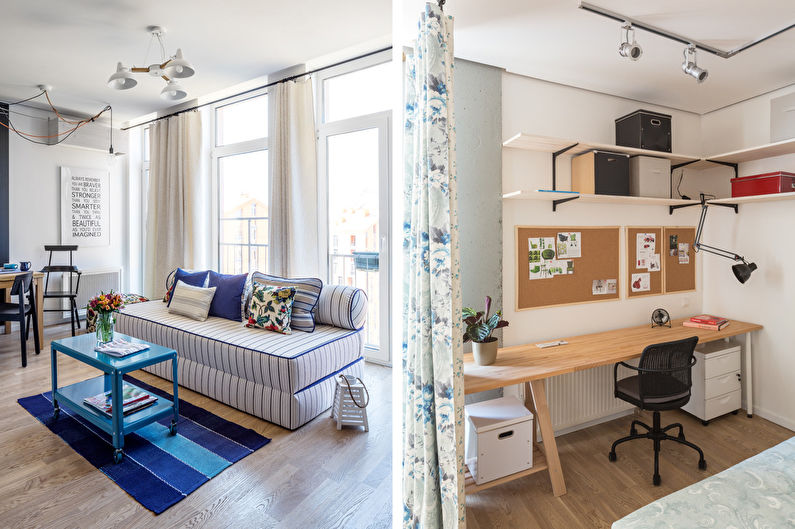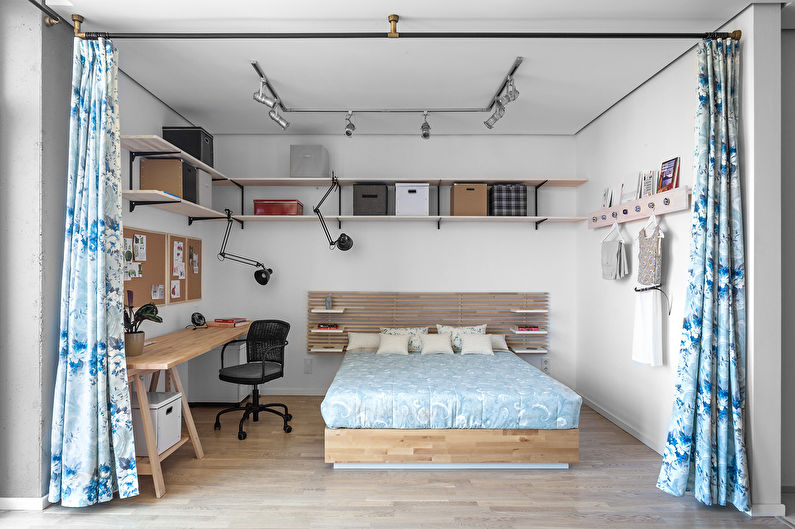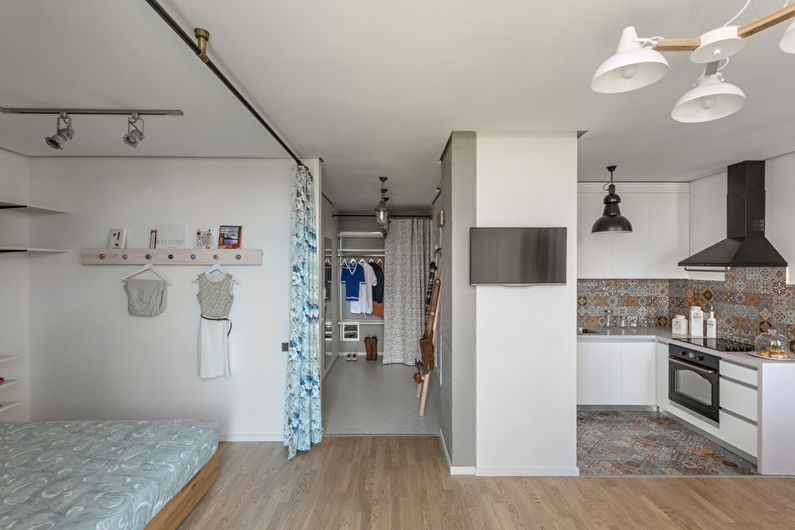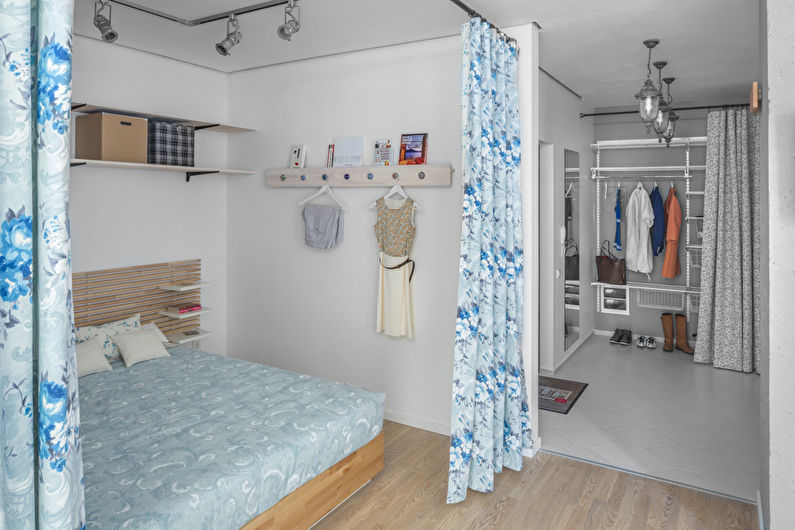 8. One bedroom apartment transformer 40 sq.m.
Italian design studio Brain Factory created a project studio apartment of 40 square meters, the concept of which is based on the possibility of changes in the plan at any time during the day.
The basis of the interior of the apartment - thoroughly thought-out module, which is easily converted into a compact kitchen table, dining table or work area.
No less important element - literally lift the bed, which rises with sturdy tape and hidden in a special niche in the ceiling.
repair Alphabet
Building your own home from the foundation to the roof
Design studio apartment of 40 square meters. meters in a modern style
You have a studio apartment of 40 square meters. m., in need of repair? The main objective in the design of its interior is the most harmonious combination of functionality and sophisticated aesthetics. It is better to opt for the minimalist style of the room in which the laconic form combines with strict clean lines.
A good option to arrange the design studio of 40 square meters. m. in a modern style, it is a studio configuration, which implies the presence of several zones that carry the functional load a study, living room, dining room and kitchen. You will be surprised to see how naturally can combine all the elements of the interior under the conditions of the correct finish and compliance with the holistic concept.
Photo bedroom in a studio apartment
Bedroom chocolate brown. A photo
Features finish apartment of 40 square meters. m. Photo Project
Furnish of apartments, the meter is characterized by small, to perform better in bright colors - it is visually expand the space. They are perfect tones of beige, lactic, sand mix. To create an interesting contrast, one of the walls can be painted in a dark saturated color - for example, chocolate.
Design studio apartment of 40 square meters. m. Photo living room-kitchen
The bar counter in the kitchen studio. A photo
Design studio apartment of 40 square meters. meters perfectly complement as wallpapers with elegant urban landscape, executed in soft, pleasant sepia tones. It recommended to glue them on the hay, which is not subject to direct sunlight.
Mural with mostomna kitchen. A photo
Furniture in the interior: the harmony and comfort apartments
Interior Design 1-room apartment 40 meters - it is a crucial project that requires thoughtful and stylish solutions. When choosing furniture is better to stay in the minimalist style. Instead of bulky kitchen units should choose concise wardrobe, in the space that can be embedded refrigerator, microwave oven, dish dryer and other household articles.
Entrance hall of 40 square meters in a studio apartment. m. Photo
Glossy mirror surface together with a milky-white color scheme will create a pleasant effect of lightness and visually lighten the interior.
Combined with a dining room kitchen successfully complement the stylish bar, made in white. Near it will be logical to look laconic chairs strict geometric silhouettes.
In the relaxation zone, near the opposite wall of the bar, we are sure there is a comfortable sofa-transformer, which in picturesque disorder can scatter comfortable pillows, which will, moreover, a bright color accent.
Complement the interior can be interesting decor items: On the wall hang pictures or photos on the table is a beautiful vase with a floral composition. However, the details should also be careful: they should not be too much, and they must fit into the overall concept of interior plan.
MirTesen
MY HOME IS MY CASTLE
Design studio apartment of 40 square meters. m - the best photos and projects for 2016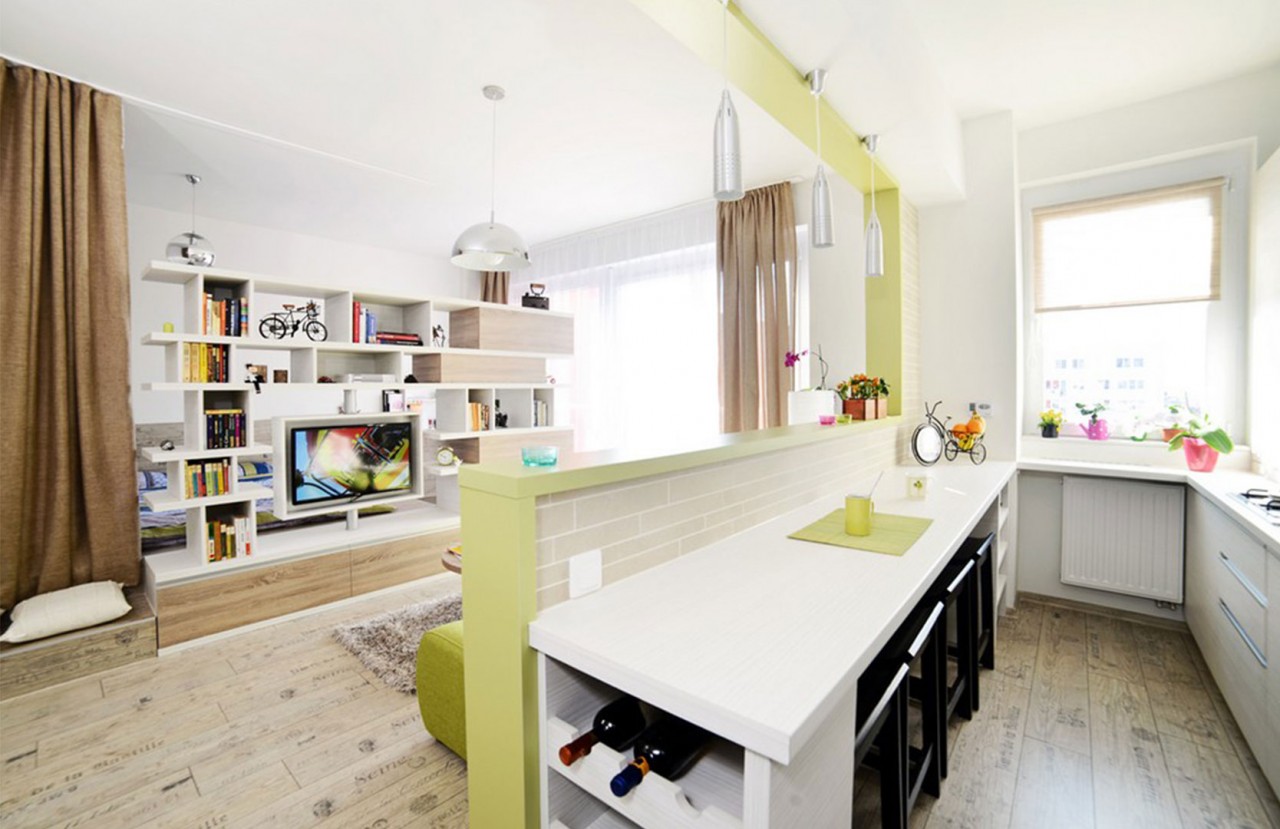 40 sq. m. - is the average area of ​​one-bedroom apartments in most modern high-rise buildings. Unlike Khrushchev whose area is 28-32 sq. m, the "odnushki" offers a great variety in the layout and design of the space, and even open up the possibility to arrange 2 separate rooms - bedroom and living room or the common room and nursery.
In this article you will find out that the design of one-room apartment of 40 square meters can be very comfortable, free, and is admired, if the right approach to it. We are introducing you to 15+ projects and design options of apartments of 40 square meters. m., combining comfort, style and smart planning!
1. Beautiful design studio apartment of 40 square meters - photos and home plan
The owner of this apartment wished to design her apartment was clean, simple, elegant and timeless. What do you think: Does the designer was able to achieve this?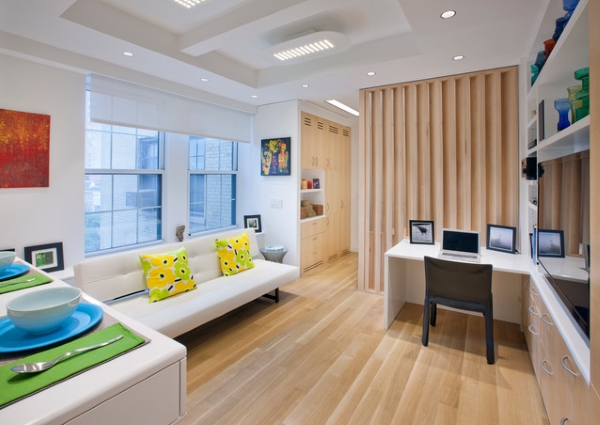 To the interior look more spacious, all of the individual areas of the apartment were directly related to each other. Kitchen combined with living room, the bathroom is a transparent door and a bedroom partitioned off from the living room half-open partition in the form of vertical blinds. So instead of a few small small rooms to get one, but very free and stylish accommodation!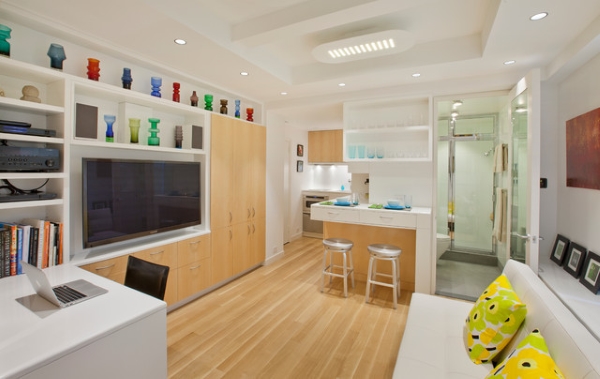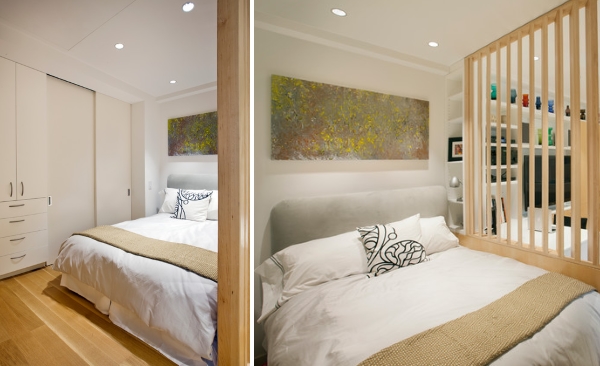 Among the other important elements of the design of this apartment is 40 square meters worth noting bright color palette and the absence of massive hanging lamps, which "steal" the air in the interior. Note that the built-in spotlights on the ceiling perimeter of the living room as it separates this area from other areas of the apartment.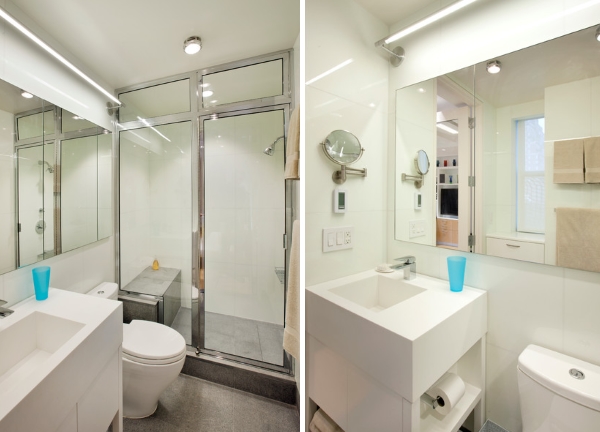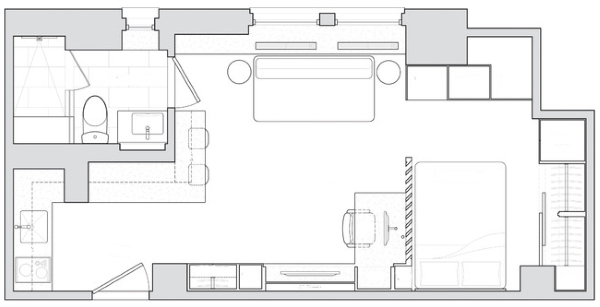 2. Ukrainian design apartment of 40 sq m - photos and 3D project
Next stylish flat area of ​​40 square meters is in Lvov and was designed by designers Roman Verbischukom, Julian verbena and Love Lazor. As seen in the photo, the kitchen is much larger and more comfortable than the previous version. A sofa and a bed, despite the fact that there are almost back to back, separated by clear glass.
As a result, design of the apartment is as open and airy, and stylish tile in the kitchen and in the bathroom brings to it an interesting flavor.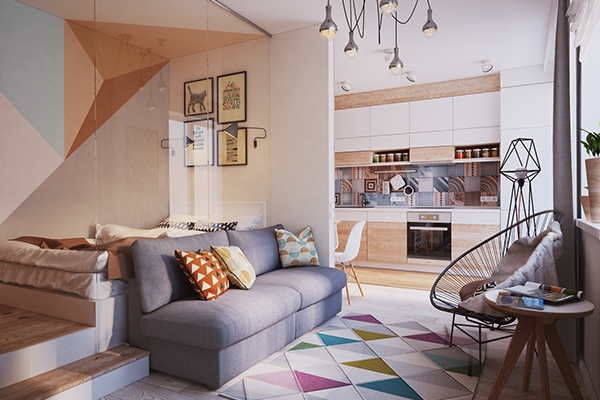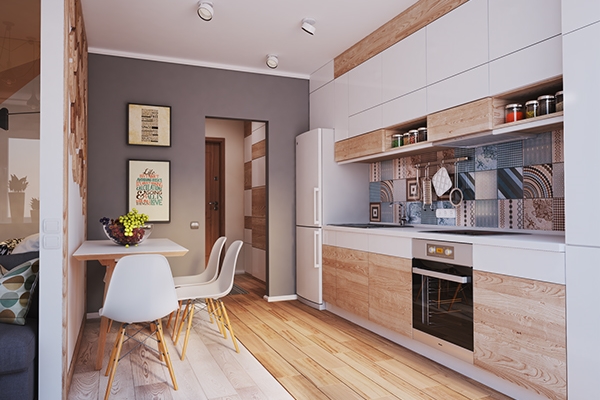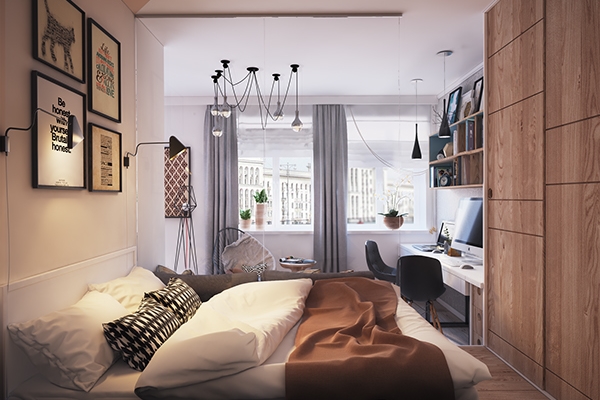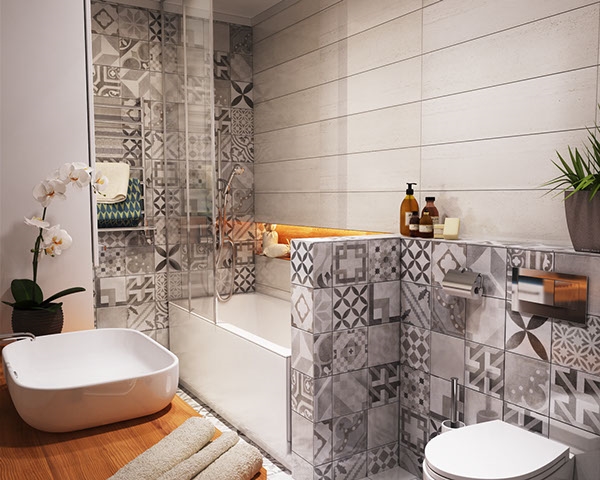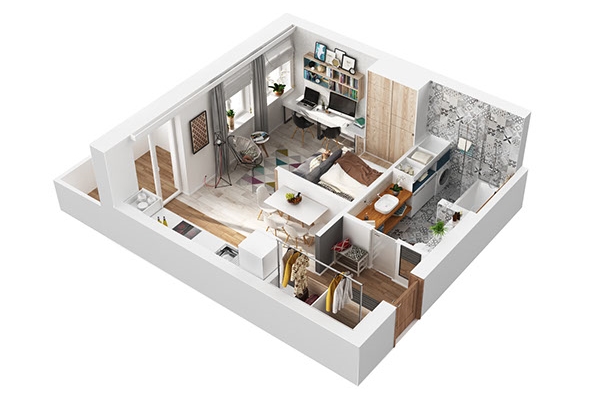 3. The design of two-bedroom apartment in an area of ​​40 sq m - photos and plan
If the previous version of the design studio of 40 square meters, the choice was made in favor of a large kitchen and bathroom, there is - in favor of a spacious bedroom. However, as you see, also here it was installed a glass partition between the room and the bedroom of the house to look spacious and light. And by the way, fashionable geometric tiles and the design of the apartment played an important role!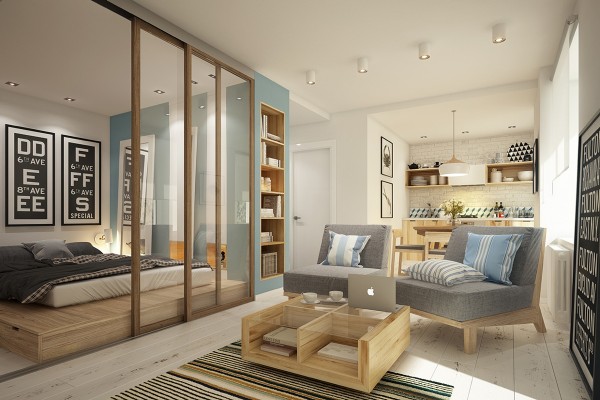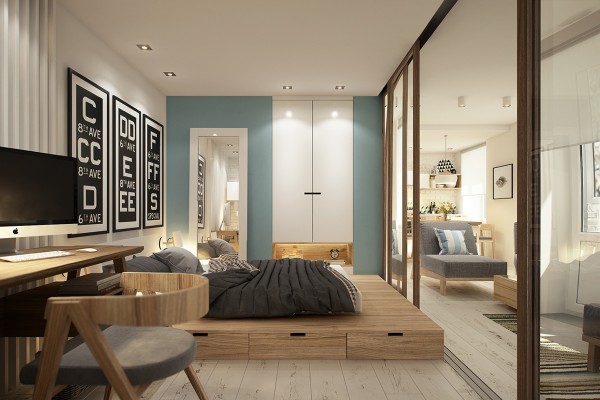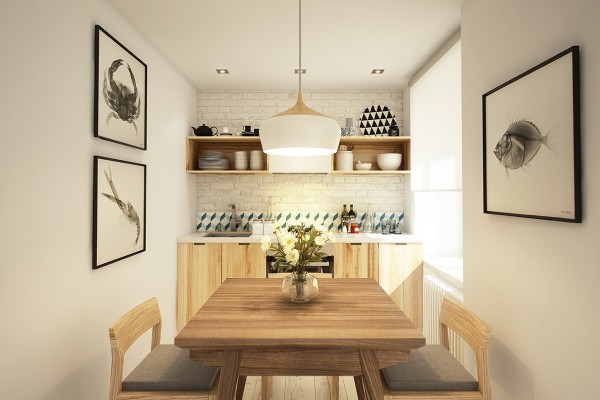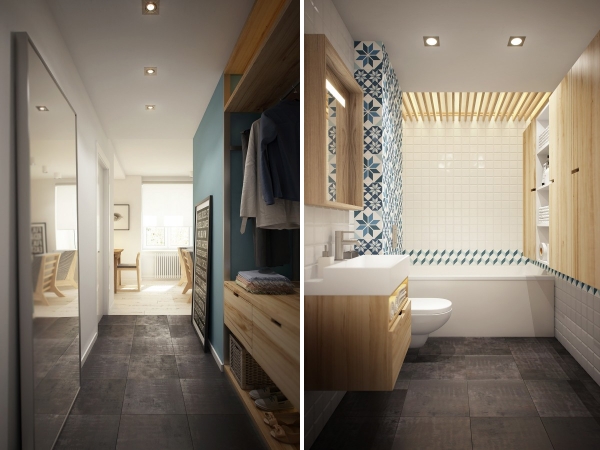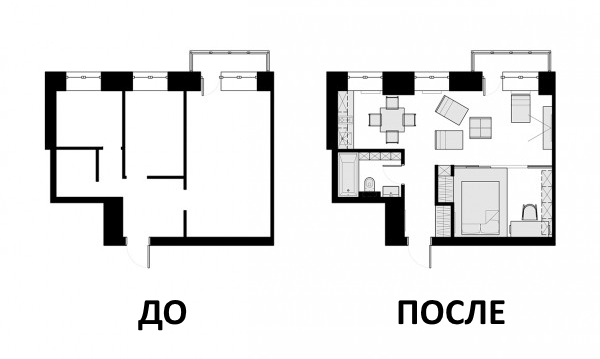 Once again I ask you to pay attention to the absence of marker lamps, as well as on open shelves and a bed with built-in drawers in the platform. The clever space-saving in the case!
4. Comfort and chic style in an apartment of 45 square meters
By design, this one-bedroom apartment will not say that it has only 45 square meters! Open shelves built into the wall behind the sofa and allow the mind to use every square centimeter of space, and even create the illusion of extra height.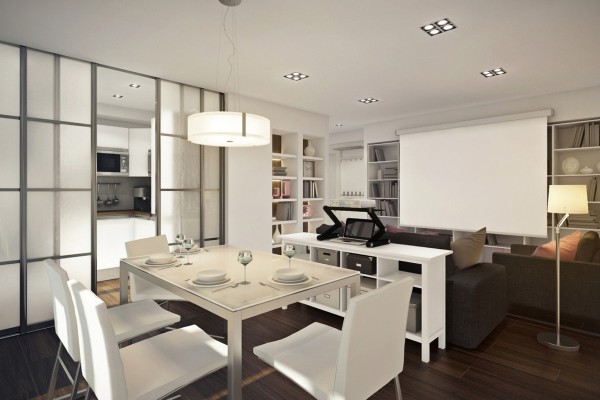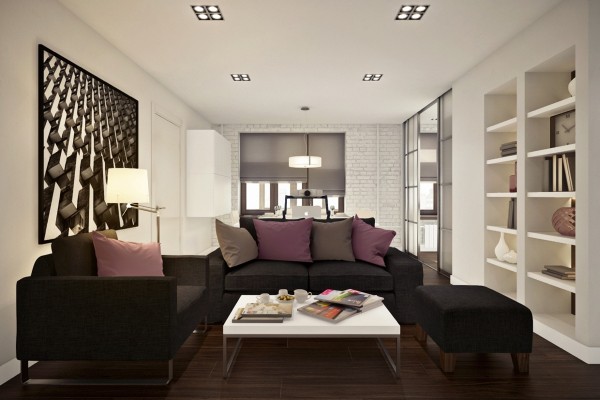 Dining area combined with living room, bedroom is located in a separate room, but a small kitchen can be closed by a mobile partition, which is very handy when there is no power or time to put things in order there.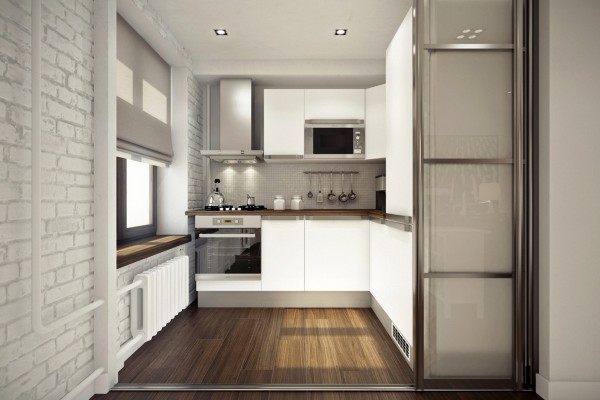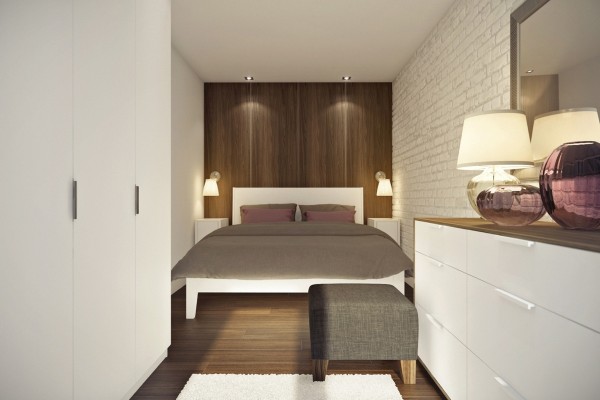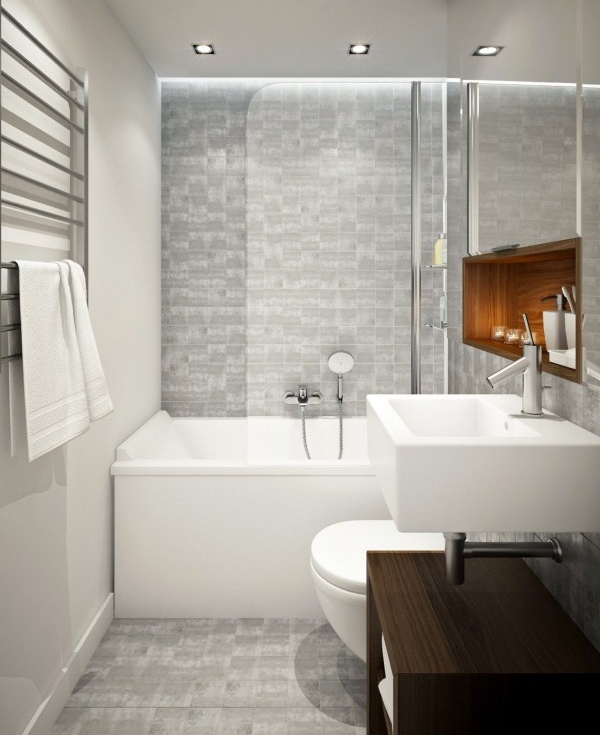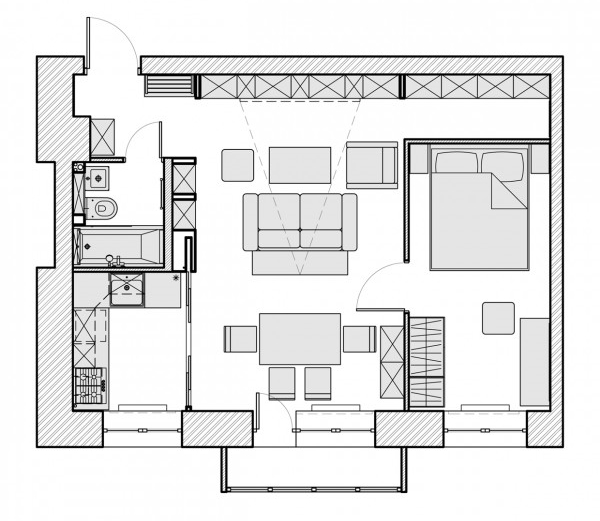 This design studio was included in our list of top projects is largely due to the fact that there is a bed-loft. It is this piece of furniture combined with the laconic Scandinavian style, it makes this house look spacious, stylish and very comfortable. And, of course, a window in the wall between the kitchen and living room adds to its charm and freedom.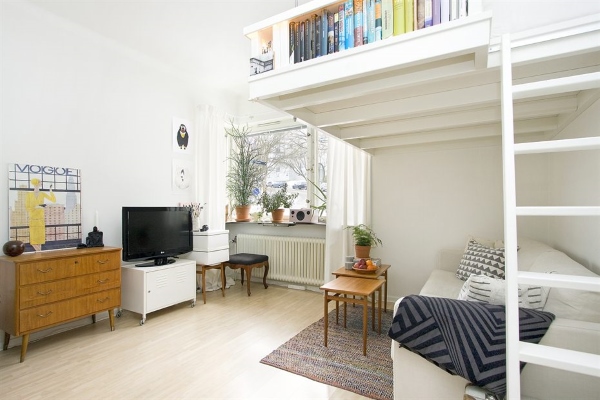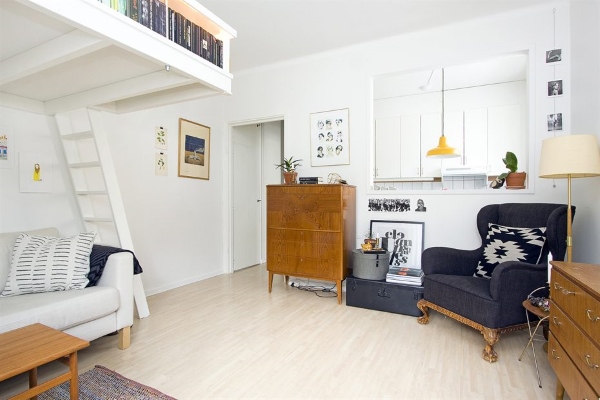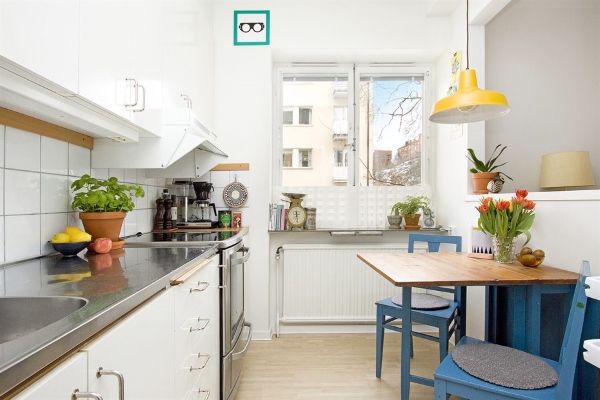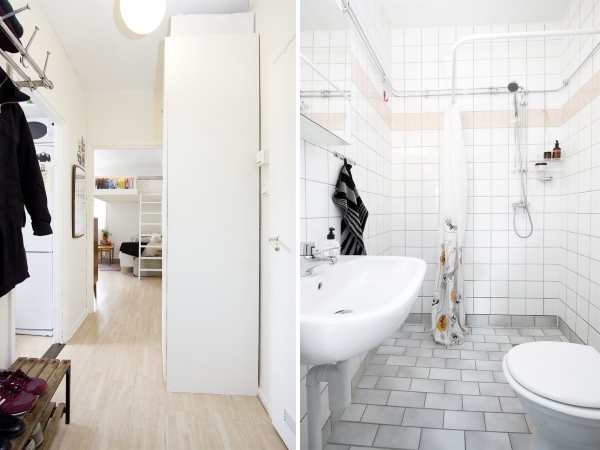 6. Bright modern design studio apartment of 40 square meters
Next on our list - a bright and rich design of the apartment of 40 square meters in the city of Sofia, the Bulgarian capital. this home concept was inspired by the LEGO, so some parts of the interior - stand under the TV, shelves, kitchen and even the pictures on the wall - like an interesting puzzle. Despite the bright accents, a large part of the interior yet been performed in white and neutral bedroom design is perfect for rest and relaxation.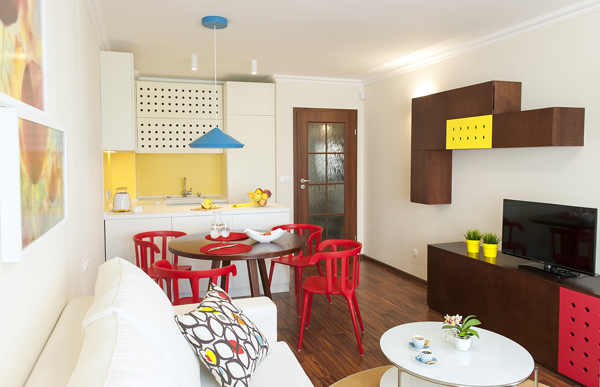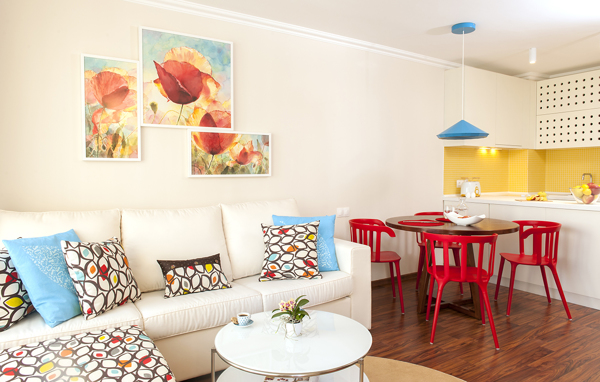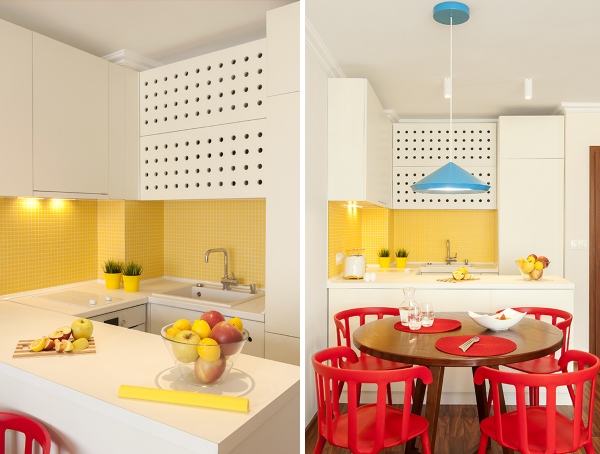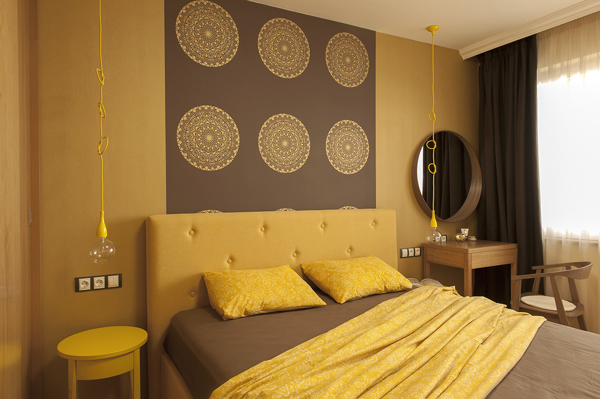 7. Design studio apartment of 45 square meters - a photo and a plan project
This stunningly stylish apartment of 45 square meters is located in Moscow and design studio was designed by INT2. As befits a studio, it consists of only one room, which contains a separate living area, bedroom, kitchen and bathroom. Some of them are separated by small sections of the wall, the other - curtains. The design of the apartment is decorated in a wonderful combination of pastel colors, as well as Scandinavian and modern styles.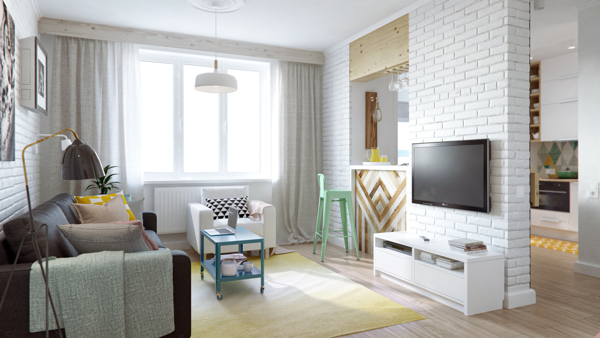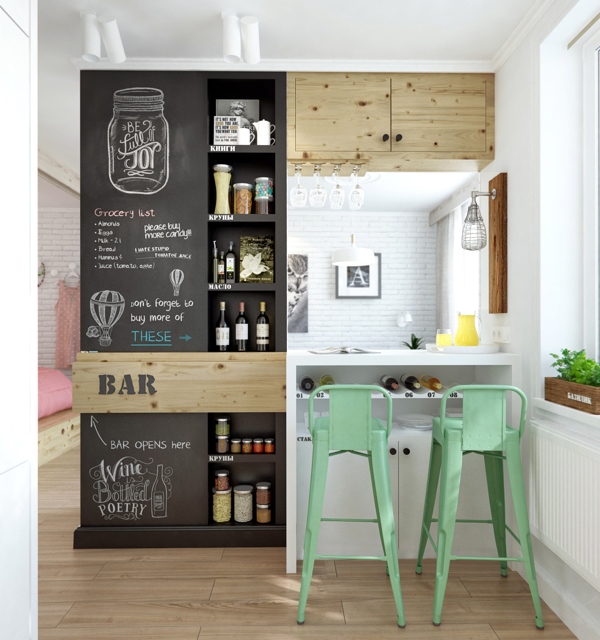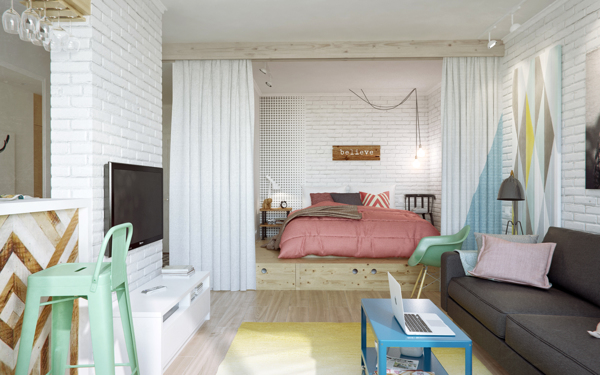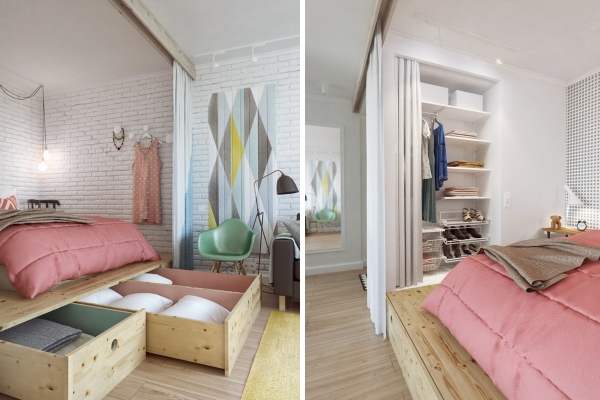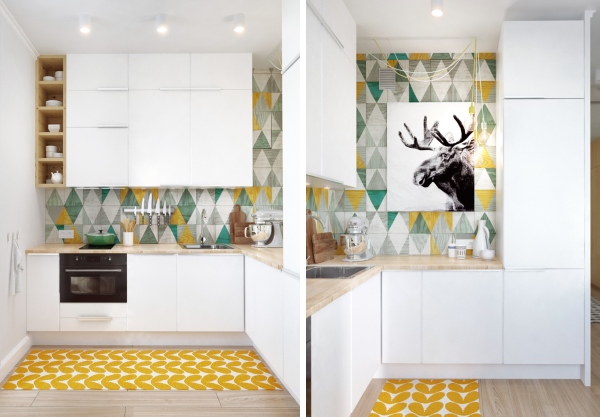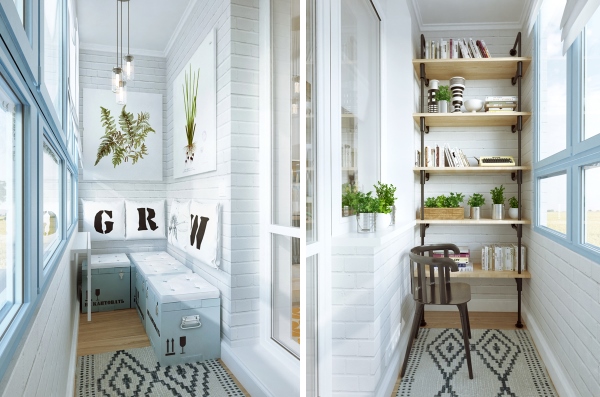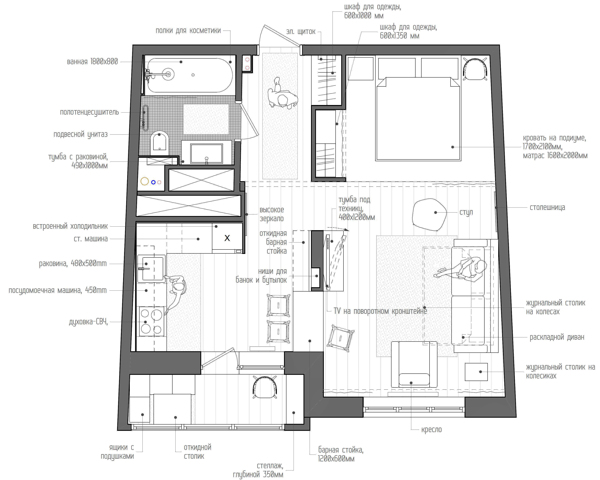 8. Unusual layout and design room apartment 1 40 sq m
This little studio apartment stands out not only an unusual layout, but also a beautiful combination of Japanese and Scandinavian minimalism. Lighter shades of wood and neutral color palette is profitable emphasizes blue and yellow highlights, including cushions, soft seats and chairs lining the walls in the bedroom area. How do you like the idea?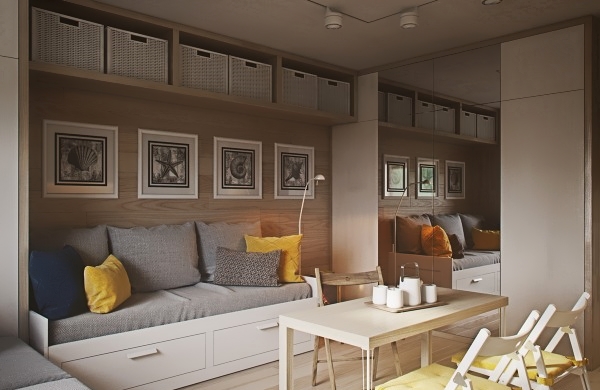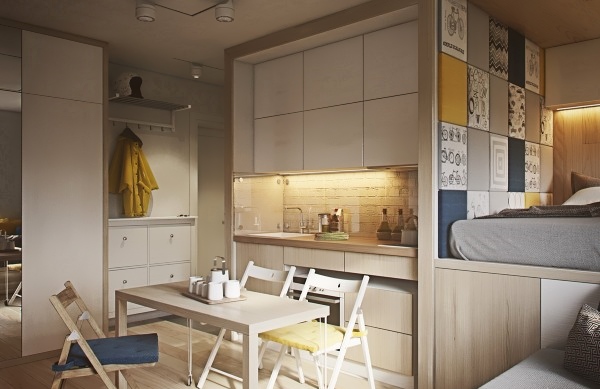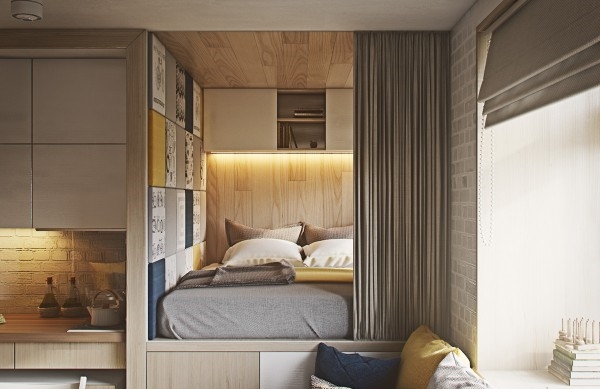 9. One bedroom apartment 40 square meters for a mother and daughter
This design studio was set up by the Polish Pressenter Design specifically for mother and 6-year-old daughter. home project is designed to meet the growing needs of the child, for what was there to arrange a spacious place to study complete with a hanging locker for books and other accessories. Low TV stand and the same height of a coffee table combined with the overall minimalist design make this apartment very light and fresh, and the dark tree on a background of smooth white surfaces create a luxurious effect.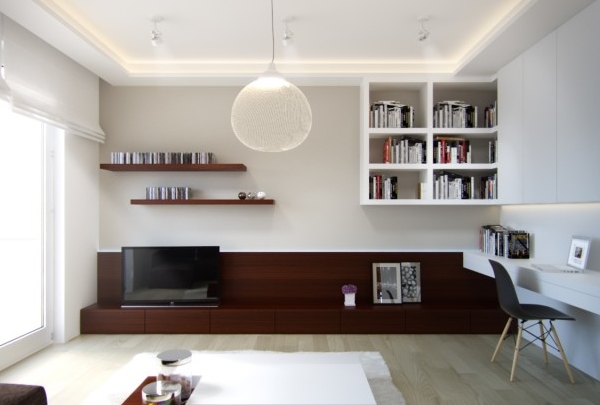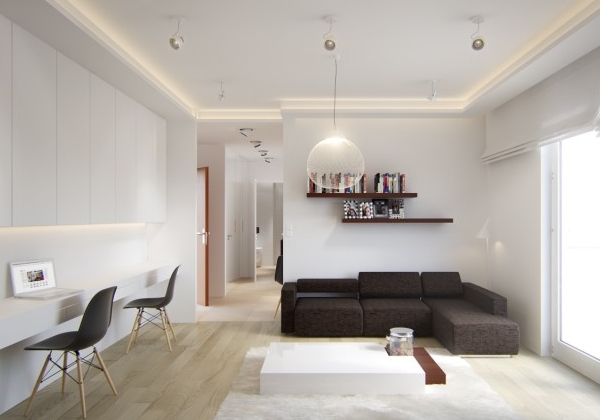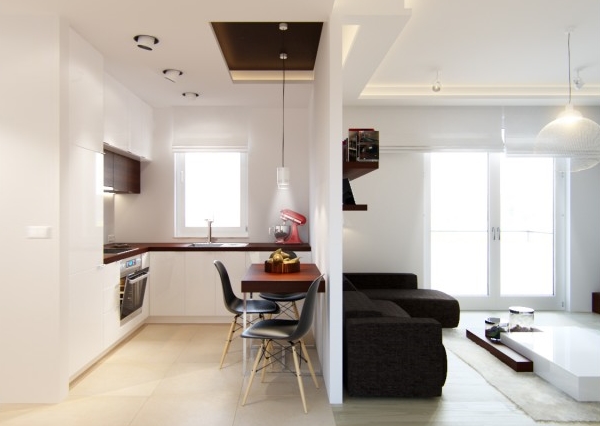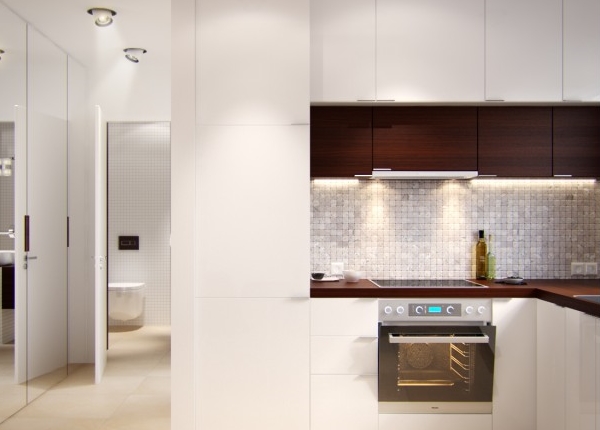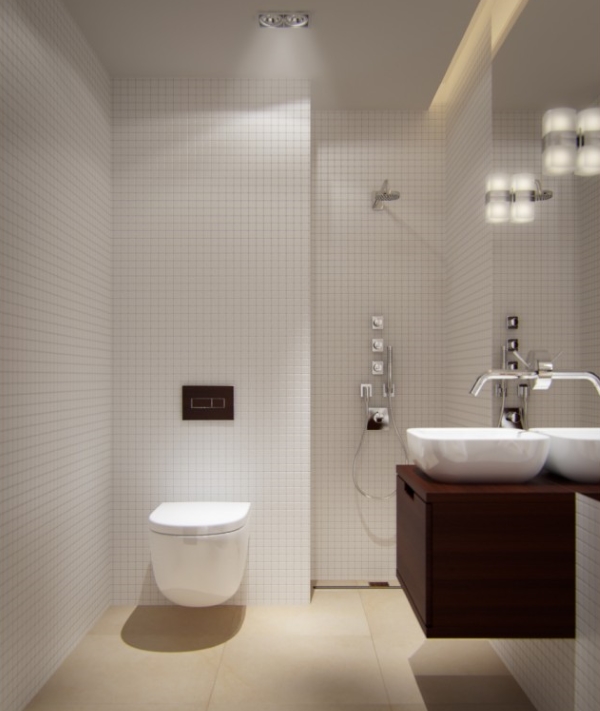 10. Living and children in the design of two-bedroom apartments of 40 square meters
Probably, many readers of this article concerned with the question: how to arrange a separate children's room in the apartment of 40 square meters? In response, we offer you a photo of the two apartments where the living room is both parents' bedroom, and a separate children easily accommodates 2 children. To some people I did not say that living in 40 square meters. meters can not afford a second child)))
The first of these apartments has a very elegant living room, combined with a cozy kitchen and a bright children's room with a bunk bed in a nautical theme, which is so loved by many kids.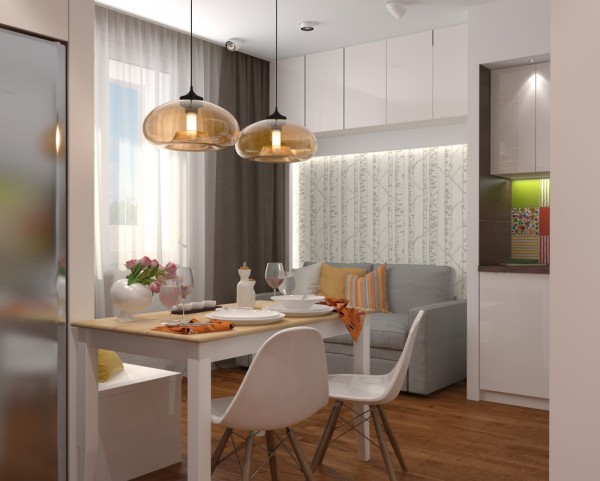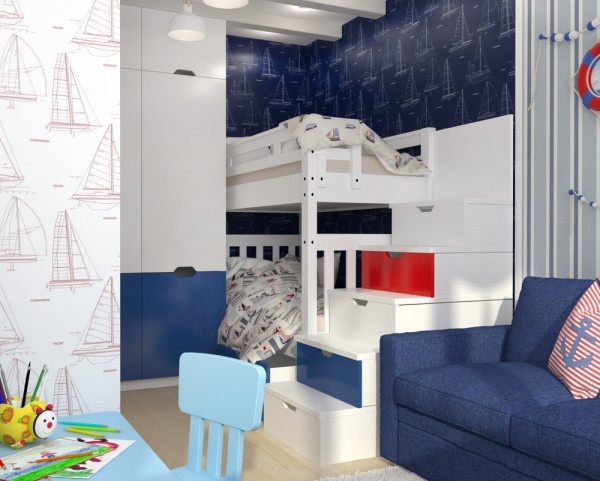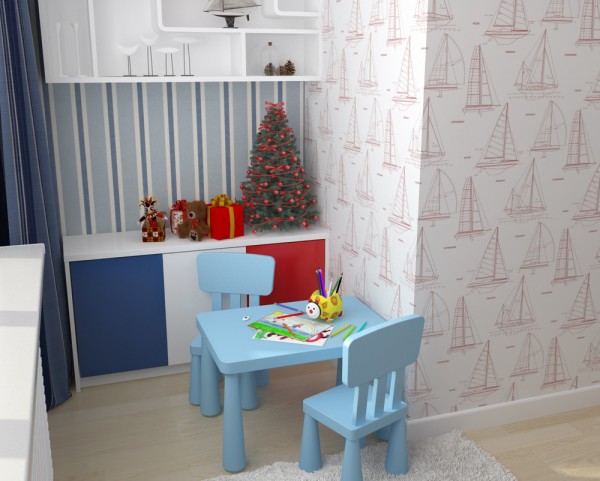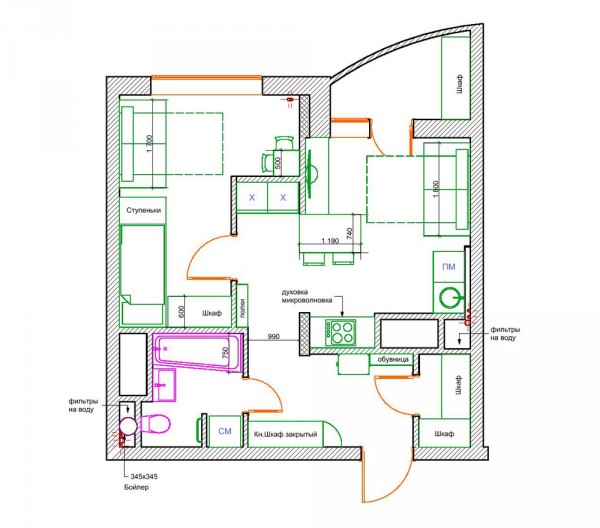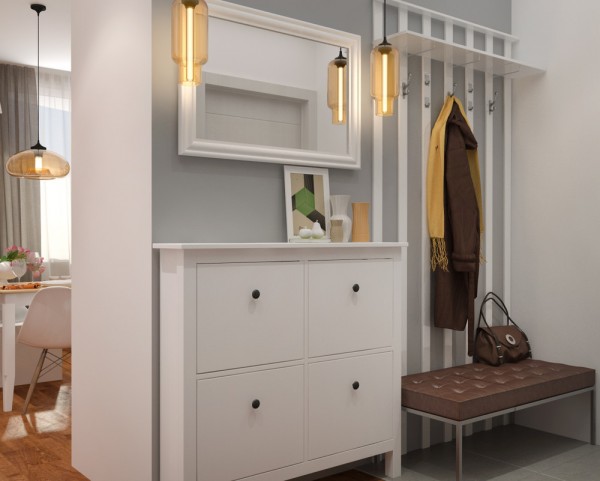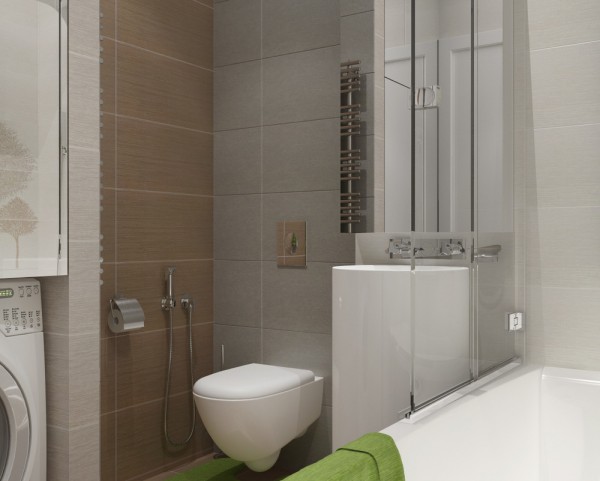 The second design two-bedroom apartment of 40 square meters is in a minimalist style and has a multi-functional furniture, despite the fact that two separate single beds are in the nursery.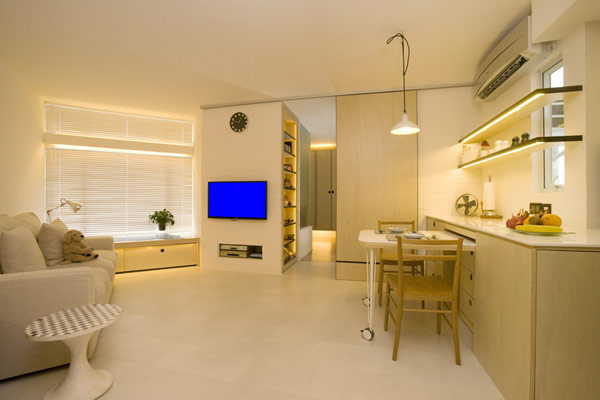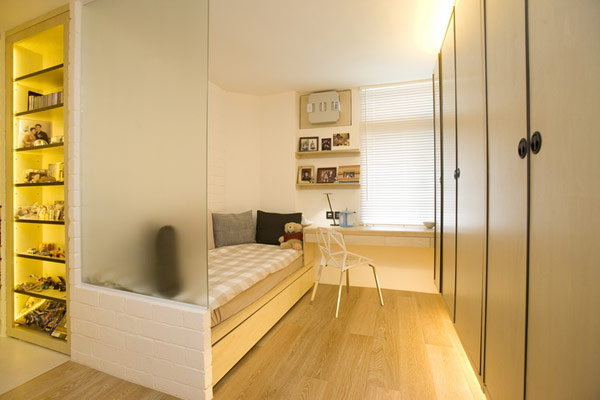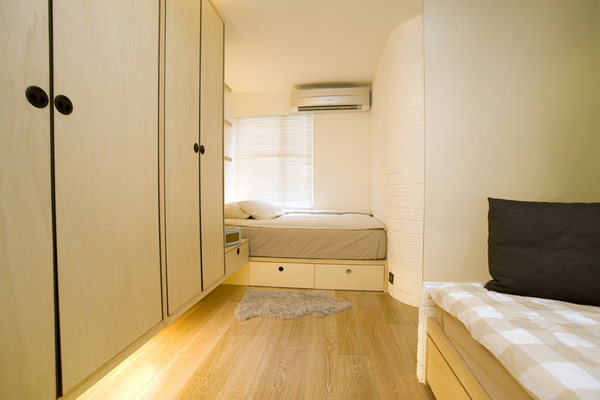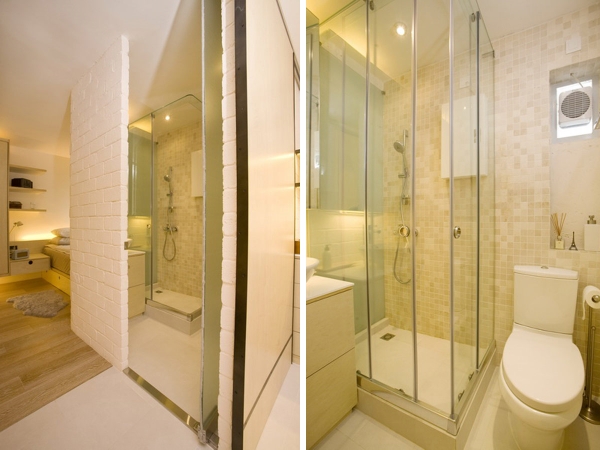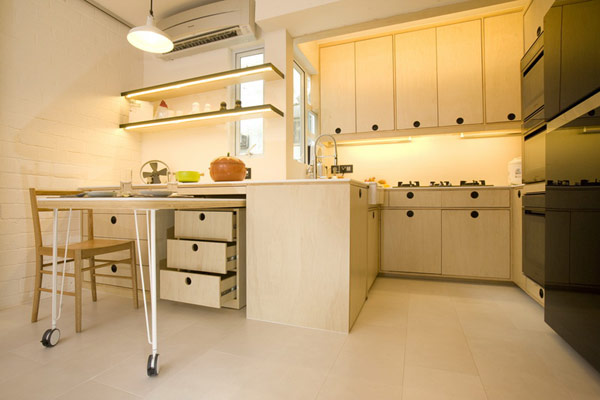 11. Modern design flats 40 sq.m with luxury elements
It's amazing, but this one-bedroom apartment with luxurious bedroom has an area of ​​37.5 square meters! A small hallway with velvet banquettes in the niche becomes a fairly large kitchen, and the main room is divided by a partition into a living room with a working space and a very nice bedroom. As in most small apartments, the white color was taken as a basis and diluted with bright yellow accents (the wall in the hallway, kitchen chairs in the living room) and turquoise (bedroom) tones. Overall, this small apartment in St. Petersburg, looks fashionable and very comfortable. Sample maximize the benefits of space!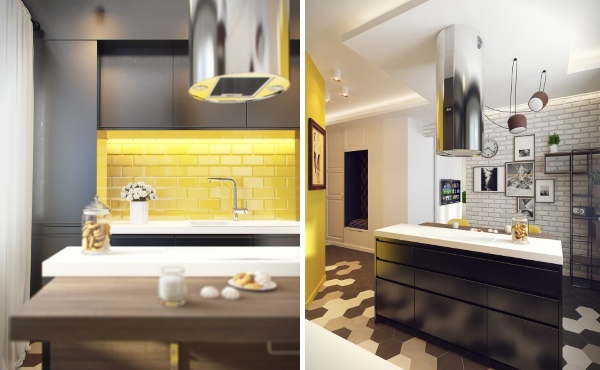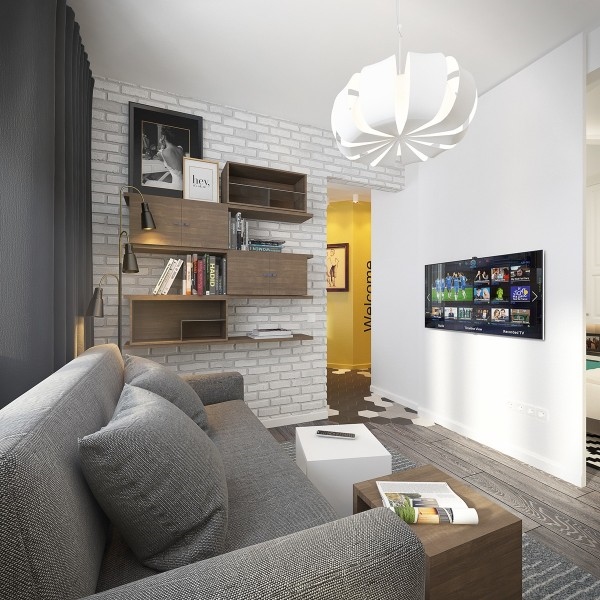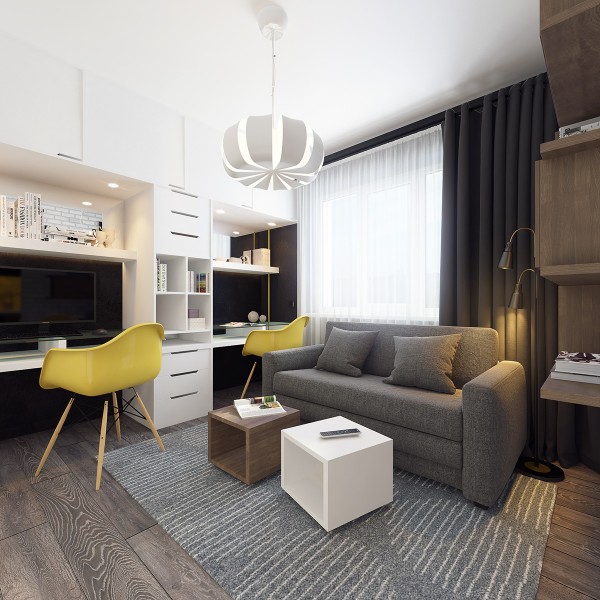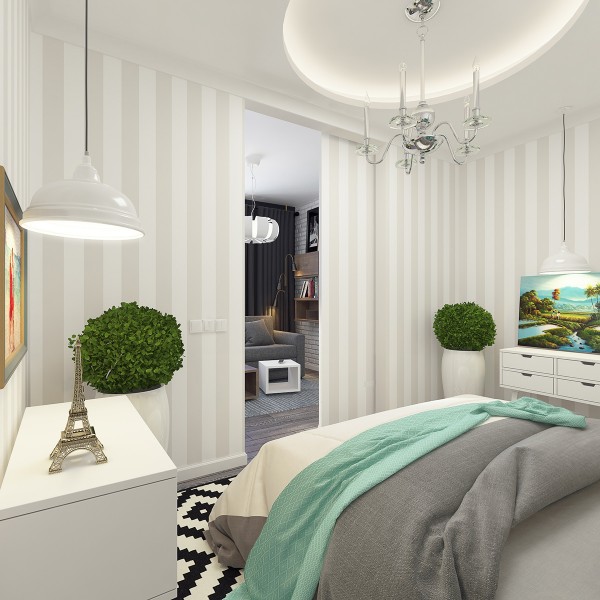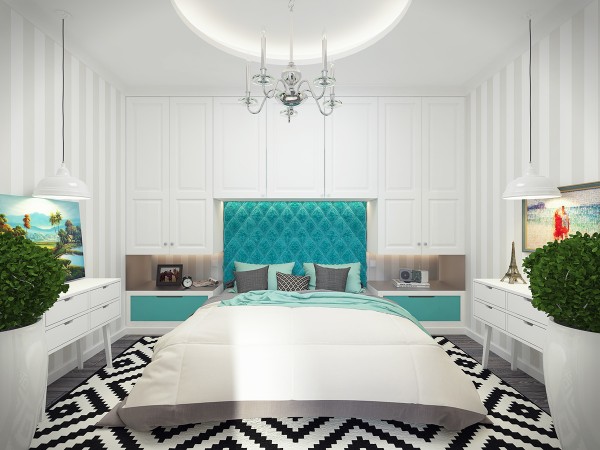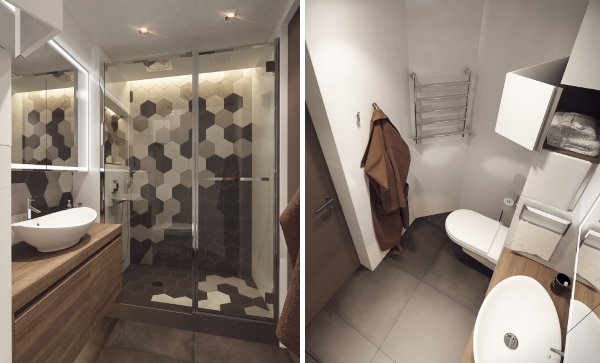 12. The ideal layout and stylish design studio apartment of 40 square meters
The following are two apartments in our list have very similar layout, in which the only bathroom is located in a separate room, a hall, kitchen, living room and bedroom are combined into one. For convenience, the bedroom can be separated from the living glass wall with curtains, or (as in the second embodiment) of the roll of flexible septum. Due to the absence of walls and doors (except the bathroom) achieved total ease and interior spirituality.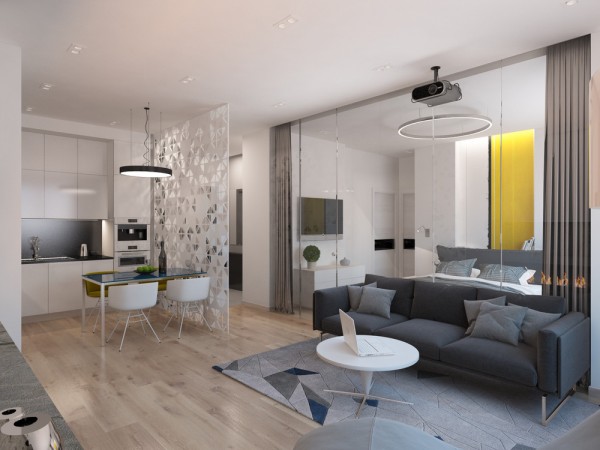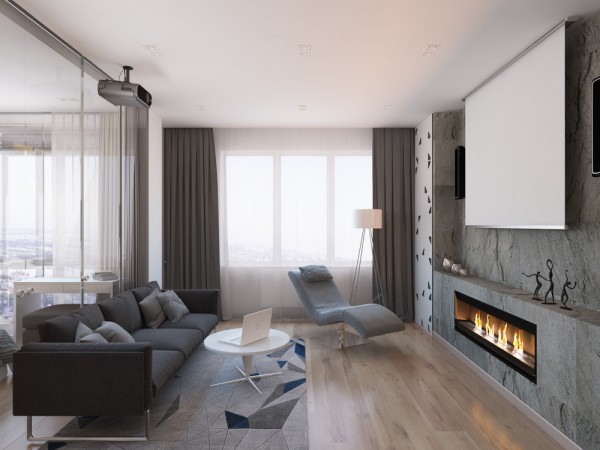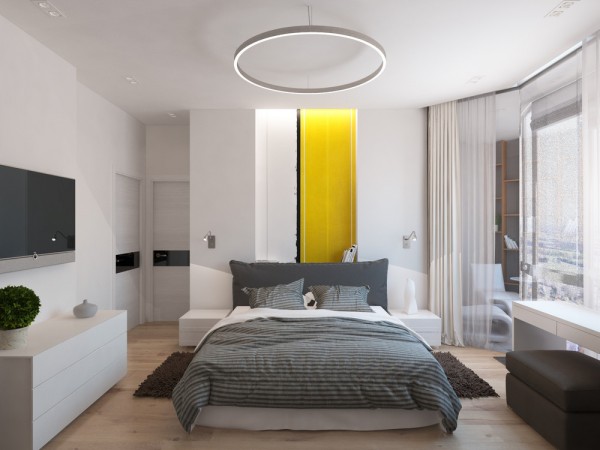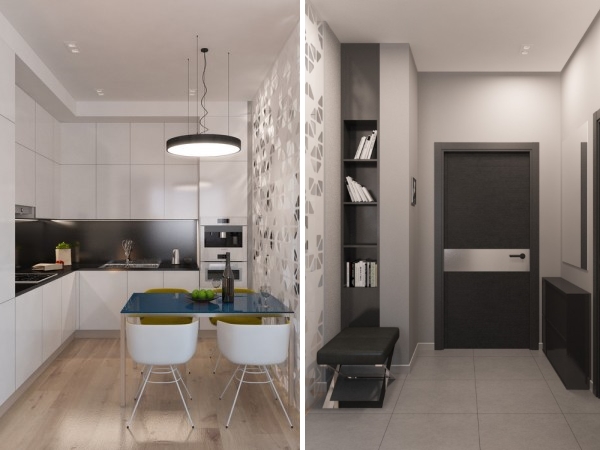 As you can see, in the first instance to decorate the interior and separating the kitchen from the hallway using interesting decorative partitions patterned floor-to-ceiling windows. Unlike integral wall, it saves space unity, bringing into it a little bit of creativity, but no more. In a second embodiment, the designers decided not to distinguish between these zones.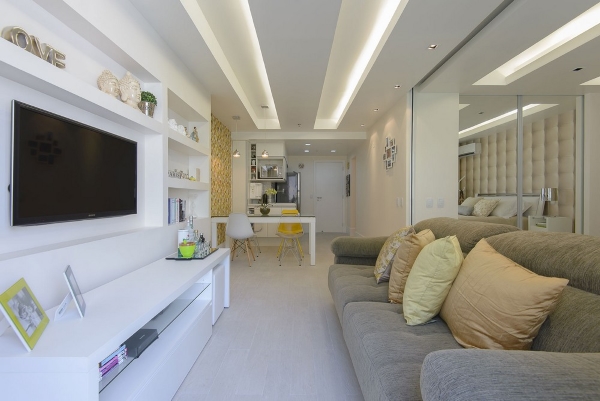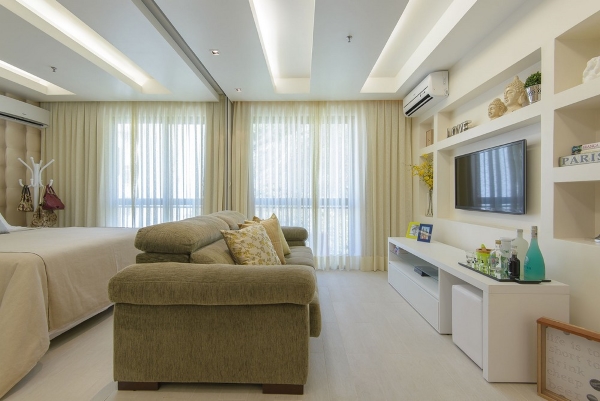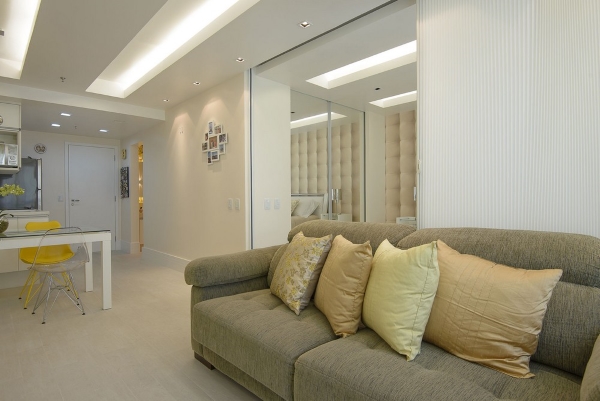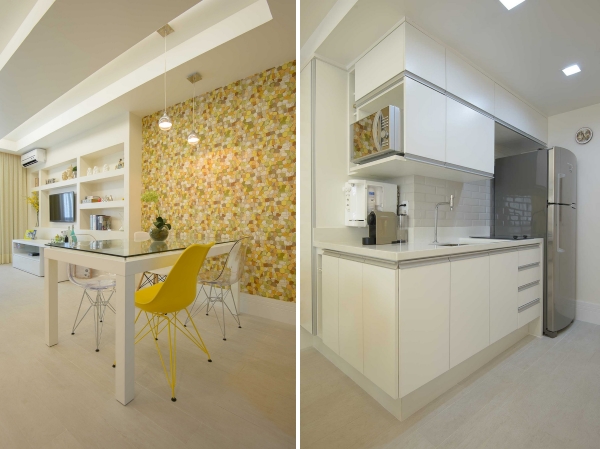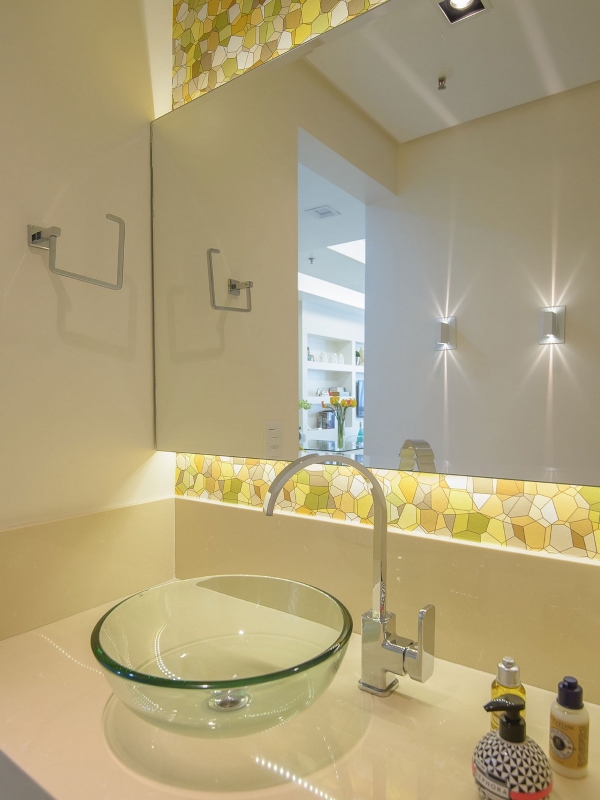 13. The luxurious design of the apartment area of ​​only 35 square meters. m.
As long as we gradually approach the end of this article, it is obvious that the transparent glass partition between the room and the bedroom - it is a key moment in the creation of a free and comfortable design apartments with an area up to 40 square meters and making a small "odnushki" in quite comfortable "kopeck piece." This luxury apartment of 35 square meters is no exception. Special it makes a bold design and color scheme - instead of bright colors and minimalist here we see a bright purple and turquoise accents on elegant gray background, as well as massive lamps (located in the right place!), A fireplace and quite staggering marble bathroom.
Who would dare to say that this tiny house is not a luxury?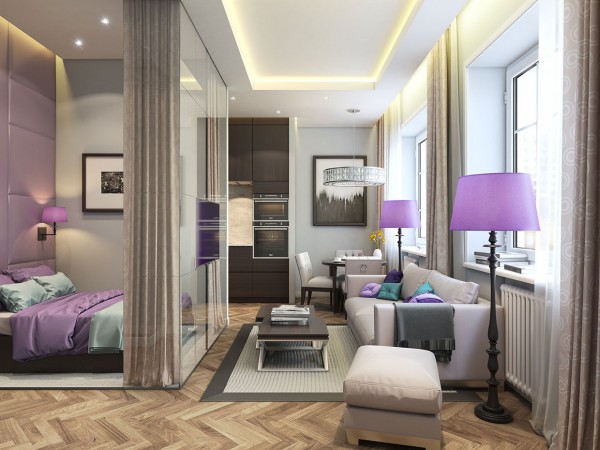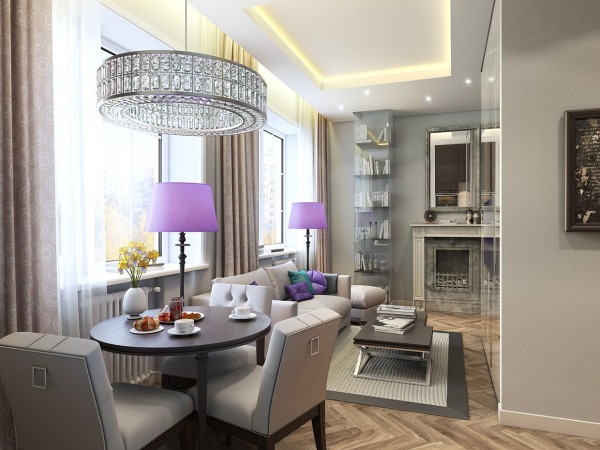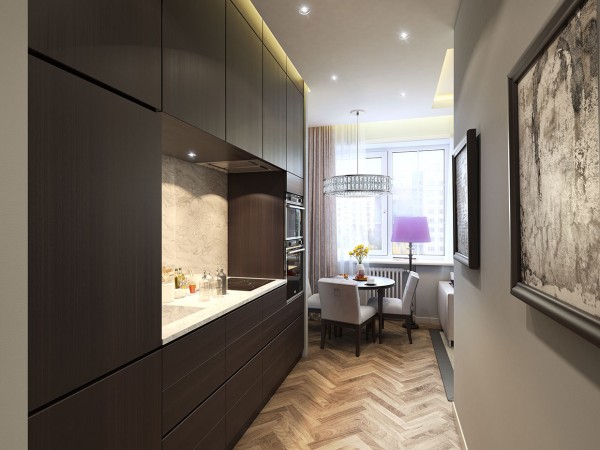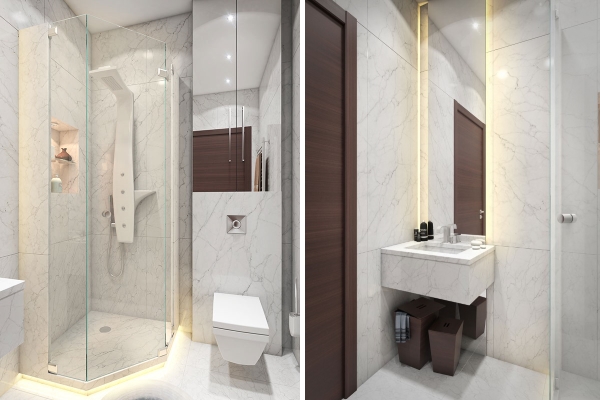 14. The modern design of the apartment of 40 square meters. m. in the Chinese style of minimalism
On the one hand, the design studio of 40 square meters includes only simple decorative elements, but together they create a very nice and lively atmosphere of the home.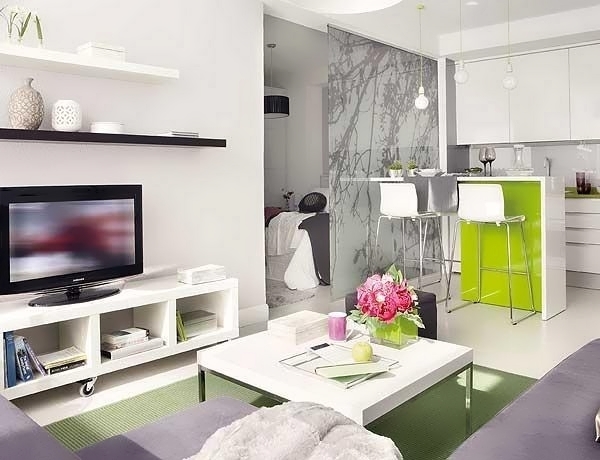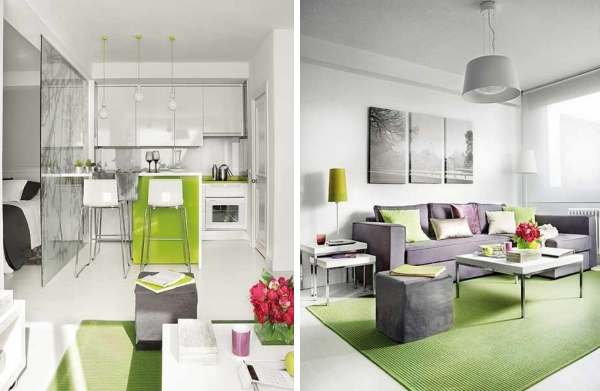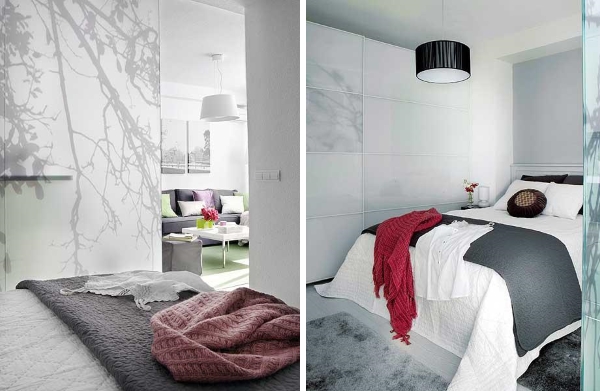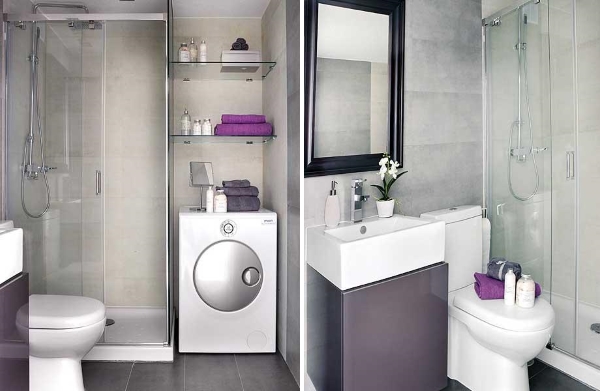 Minimalist furniture strict rectangular shapes is very elegant and fresh looks at the background of bright green, pink and purple accents. Bedroom, separated romantic translucent partition has a large wardrobe and a bathroom where the door leads from the kitchen-living room, has a narrow shower cubicle, through which are able to accommodate and washing machine.
15. Youth Creative design studio apartment of 40 square meters
We finish our today's post is very cute, youth and cozy studio apartment in the city of Arad, Romania. In addition to a pleasant color scheme that combines light neutral tones with details of almost all colors of the rainbow, you may be pleasantly surprised shelf-partition in the living room, a bicycle in the bathroom, the bed platform and hanging closet, desk. Everything in this stunning apartment and breathes the love of life and the world around them!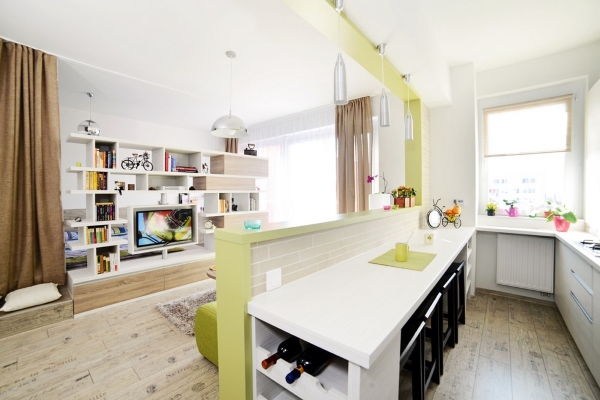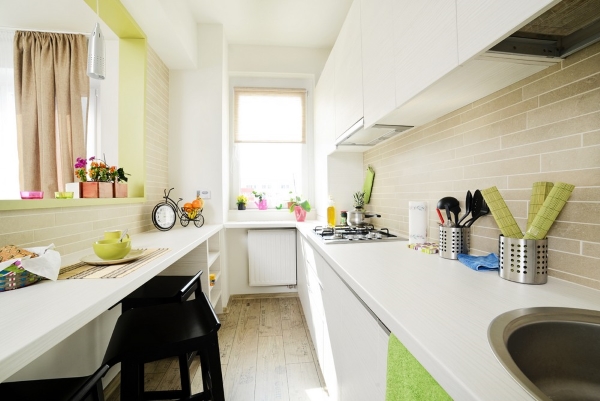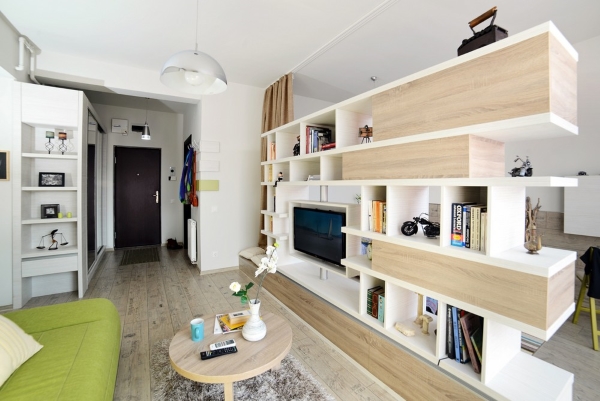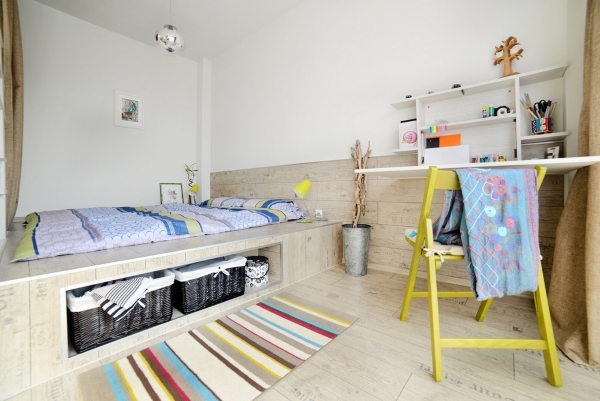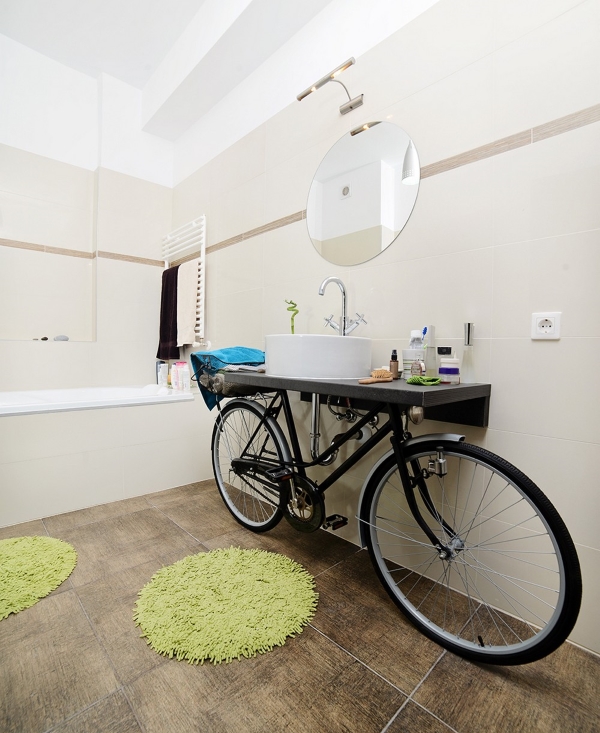 Reactions to the article
Comments

Reactions to comment

Reactions to comment

Reactions to comment

Reactions to comment

Reactions to comment

Reactions to comment

Reactions to comment
Reactions to comment
© 2007-2018. Using materials reference site "apartment, house, villa" is mandatory
Since your account is registered suspicious activity. For your security, we want to make sure that it's really you