The decor of the wire with his hands
Articles made of wire with his hands, I did as a child. Together with my friends we are spinning rings of colored wire master "money trees", together with the Pope were collected from the wire and shiny tinsel Christmas tree on the school's morning. First crafts wire to the son we were making, as soon as he went to kindergarten. In this article I will try to reveal the attractiveness and ease of unusual techniques applied creative work.
If you've never used a wire for decorative purposes, not spinning out of her intricate figures and did not invent elaborate framework for toy furniture, you will have to start small. Buy copper wire on a reel for the craft of bead. This material can be purchased at any store for handy people. Tool to work with any wire similar to pliers with extended spout. He called Round.
Articles made of copper wire can be done with children five years of age, when the arm muscles got stronger, and there was some perseverance. It is enough to explain the principles of operation and control at the initial stage.
Sketches to work with copper wire in the Internet is enough. Many counterfeiting of such a material can be safely used in the design of a child's room. For example, a garland woven of copper wire can be a good decoration for a child's room.
With copper wire, beads and beads, you can decorate photo frames, planters for flowers or a wall clock. Small crafts of copper wire can fill the space or the scheduling mode of the day the first-grader. The most important thing - your child to work with such a wire will be fun and easy.
Work with different types of wire
After the fine wire for creativity mastered, it is time to move to a more elastic and resistant to deformation materials. For example, the creation of articles made from wire with a multilayer coating, and a larger diameter than that of the copper coil.
Master Hanka Sladká, Czech Republic
Working with elastic wires will be of interest to older children. To work with this material, you will need curved pliers and vise-grip. If you plan to put the finished product on the support, be sure to purchase a special set of pins. For those who have mastered the technique of working with wire, you can use a variety of tools to create patterns and ornaments.
Decor-suspension. Master Irina Sergeeva, Rostov-on-Don
The decor of the wire in the interior of a child's room
Several years ago, one student gave me a candle, which he made from wire. The base product was like a bent tree trunk vase for candle made in the form of blossoming tulips. Thick strands of wire reinforced interspersed with thin wire weave with multicolored beads.
Then he gave a good idea of ​​co-creation with my son. Defender of the Fatherland Day was approaching, and the school had to "figure out" crafts. Son put forth, that it should be a star. And I offered to perform frame stars out of thick wire that remained after the old equipment. Additionally I bought a thin wire and red beads. Husband collected skeleton star, and my son and braided bead product "ivy". Crafts were highly praised in the school.
I also liked the idea to decorate the walls of articles made of wire and beads. Flat figurines of birds, fish, butterflies and animals, paintings with architectural solutions. Patterns of black wire and contouring the decoration.
The angels in the nursery baby brother or sister, Christmas tree at the window in the nursery, funny or original hours of the night light wire - all it takes the child and decorate the house. Pendants created from wire and colorful beads can complement interior nursery for the newborn child training vision, forming his aesthetic taste.
"Angel" pendant. Master Pauline Tar, Nizhny Novgorod
Unusual and very entertaining look into the children's room of the clock wire. You can create them using pins and winding techniques for the foundation, and the mechanism to borrow from the old alarm clock.
Hours of wire. Master Hanka Sladká, Czech Republic
Still, I think it would be nice to tie a wire under the large photo mural chronicling the life of a child, hang it in a children's photo and update within a certain framework.
An interesting solution in interior design children's room will be original pots for flowers or intricate shelves for books from the wire. Children are very fond of different jars under the pens, bags for toys or wallets for small parts. If you use hooks by their hands from a wire in order to arrange a place for storage, interior nursery significantly transformed.
And yet, from wire to make lampshades and chandeliers nightlight in the nursery, designer furniture for dolls or garage for toy cars. The most amazing thing is that all this is possible and necessary to invent and implement, together with the children.
There are amazing weaving techniques of wire through which there are real sculptures made of wire.
Author Victor Kolupaev sculpture, Yaroslavl
The American designer, Ruth Jensen creates realistic figures of animals, using a wire from one coil. In other words - the solid material.
Ivory Wire. Designer Ruth Jensen
Babies are interested in working with wire. Flexing intricate patterns, creating intricate shapes the child learns to do, put your imagination to the crafts. The result does not make coming. Wire products like others and to further stimulate creativity.
After inventing intricate handicrafts made of wire with his hands, the child not only develops fingers, he trains the imagination involved in active creative search and showing their individuality to the delight of parents, friends and loved ones.
Jan Danihnova
I do not even think of a simple wire can make such beautiful crafts. Now we have to share the pope wire ...
I am happy to see your work. We are colleagues, I am - a teacher and psiholog.32 years experience, now retired, I worked in a children's home №6 in Minsk head circles. All my life I do needlework, are now looking on the internet for inspiration and a new program ... - I found it! Thank you.
I have a large collection of VC.
Sincerely, L. Nowicka.
Wonderful hobby for children, and for adults too. It's so cool - to create unique things with their hands. In addition, these products can be done not only for decorative applications, but also quite practical: a hanger for a minor things stand, nadvernye hooks. It all depends on the imagination.
Articles made of wire with his hands: master classes for beginners
Long wanted to creatively decorate the interior of the apartment? Or maybe look for items to decorate a child's room or massive jewelry for yourself? I do not need to go far and spend a lot of money to buy useless things, because with all the tasks you can do it, if you learn how to create simple articles from wire with your hands.
Wire - simple and versatile material. Unlike other tools for needlework, she is able to take the desired shape, it is easy to bend and does not lose its appearance over time. Even if you've never used a wire for decorative purposes, to work with it will be easy.
From fluffy wire with your hands, you can make unique crafts with the children. It will be sufficient to explain the working principle of the child and show the basic techniques.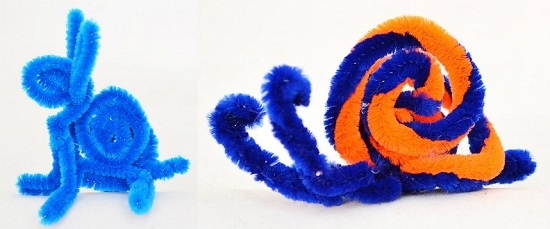 Of copper wire obtained remarkable interior. It could be vases, candlesticks, stands for umbrellas, lamps, lighting and spectacular decorations on the wall.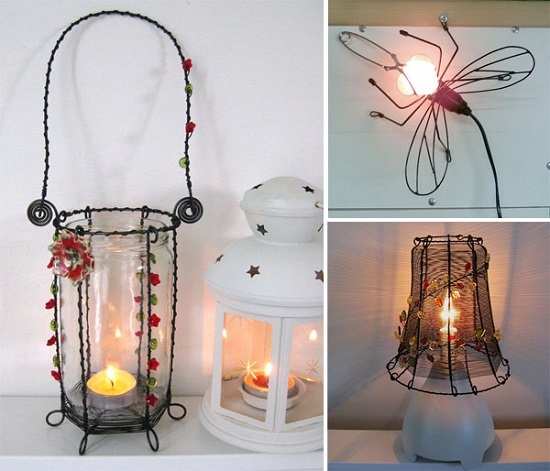 Skilled craftsmen can create figurines to decorate the infield. By the way, this kind of art is particularly popular in the shops and is quite expensive.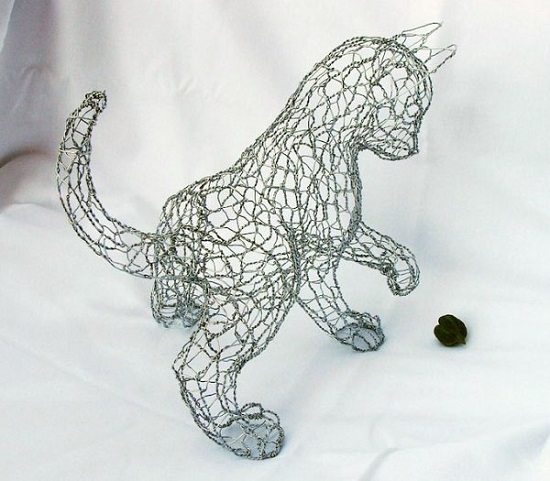 And fashionistas will appeal to a variety of massive jewelry from wire: brooches, earrings, rings, pendants, chains. All this can be decorated small beads, pearls or beads massive and covered with paint.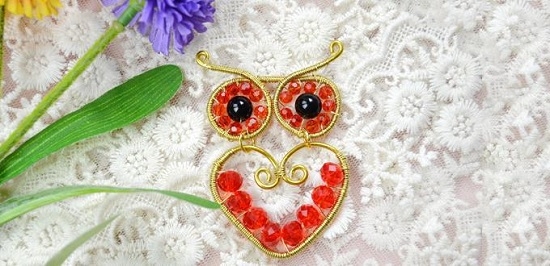 But for beginners masters are articles from wire with their hands may seem a burden. Therefore, we offer "nabit9raquo; hand on our phased master classes.
If you plan to be creative with your child, then you will be very useful this fotourok create crafts with their hands out of chenille wire. This material is a pleasure to hold in your hands, it is very soft and will not let little hands accidentally hurt. But the main plus fluffy wire is that it can be used repeatedly and at the same time it does not lose its original appearance. Let's try to make out of it a wonderful summer flower.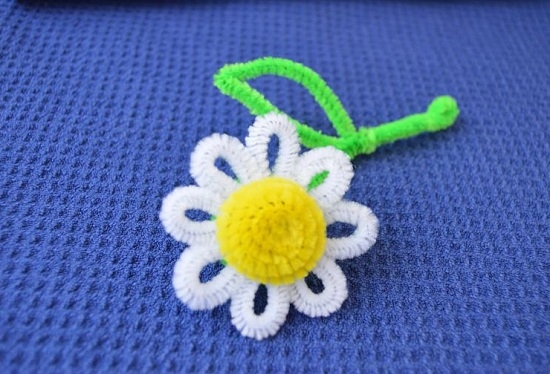 soft wire of three colors;
Polystyrene bead;
glue;
scissors or clippers.
Prepare in advance all materials: white slice of wire rods 9 of the same length, and 1 yellow green 2.
Screw the white stripes in the shape of petals and put alternately on each side of the foam ball.
Then take the yellow wire and gently fold it to one side.
Insert the tip of the wire on the center florets and wrap around the base after coating the adhesive bead.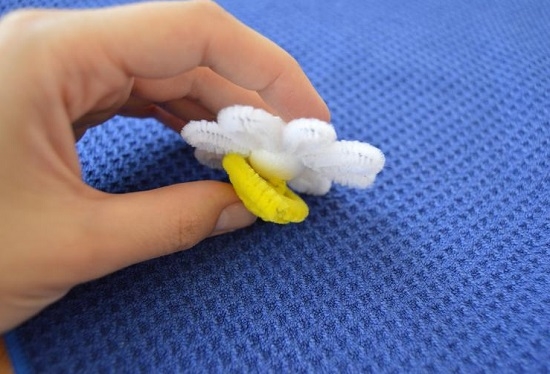 Connect together two green wire, leaving a small tip for fixation.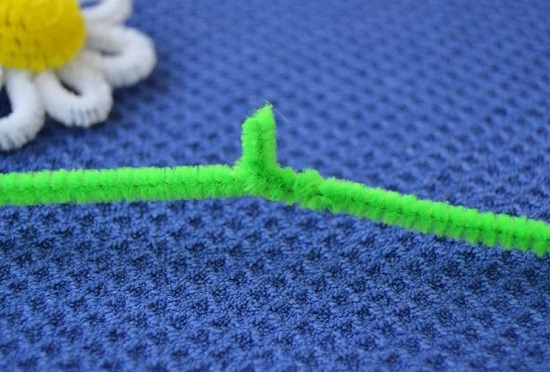 Now tighten the wire around one another in the form of snail and paste from the back side florets.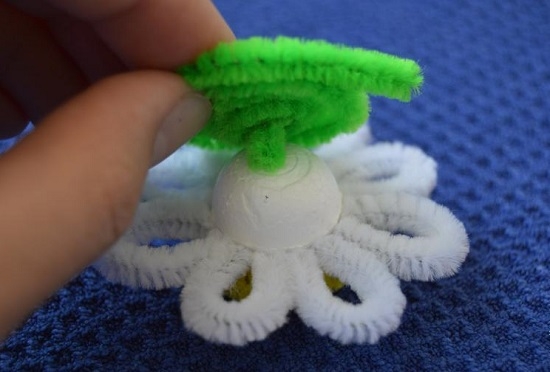 The remaining end of the wire bend in half and twist around the base.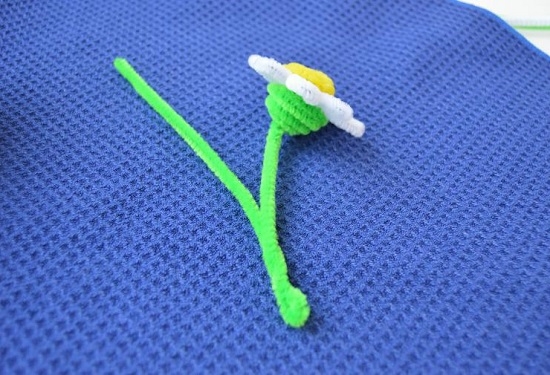 Fluffy daisy is almost ready, it remains only to form a leaf.
Equally popular and crafts with their hands from a copper wire. For beginners, we propose to create a tree of happiness, life, luck, or as it is called, the money tree. The result is the same as the name, it will depend largely on what kind of decor for its decoration you pick. It is believed that the artifact of small beads and copper coins in the house brings prosperity and wealth. Plant, decorated with red beads - love. A standard green stones - a symbol of life, longevity and good luck.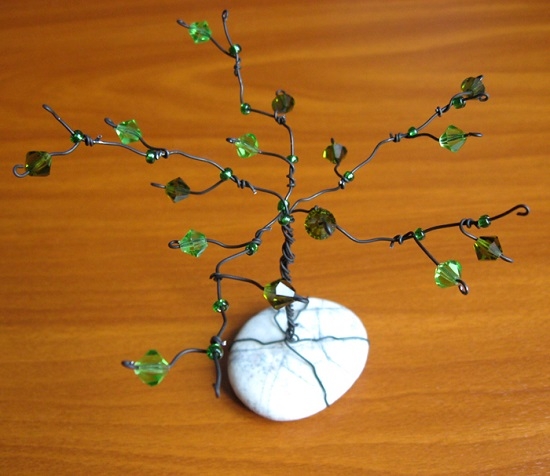 copper wire;
beads of different diameters;
wire cutters;
flat stone.
Cut 5 long strips of wire. They will serve as the stem and the base of our tree.
Twist the strips to each other, leaving a bit of space from the bottom and from the top to form branches.
Attach the base to the pebble by bending the ends of the wire under it with pliers.
Cut a small piece of a new wire, thread a bead on it and bend the edge, as shown in the photo below.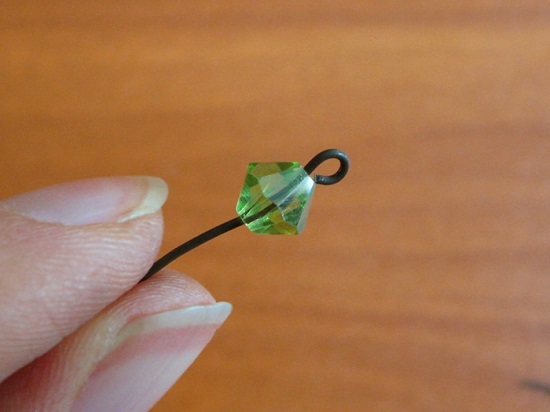 Using pliers with slide bead wire to branch, tightly secure it with a few turns.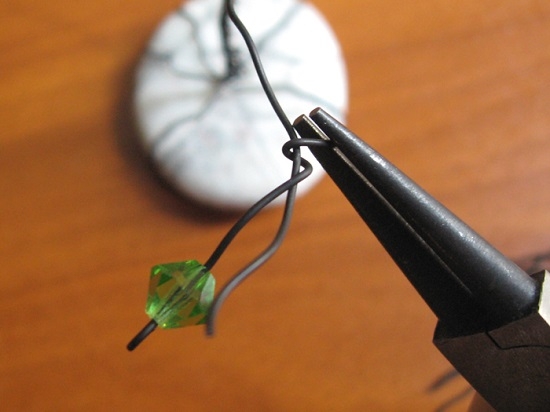 By the same principle to decorate the rest of the tree branches, not forgetting between them and thread the small beads.
Spread the wire in different directions, so that it is shaped like a tree.
Let the new tree of happiness brings into your home only warmth, love and joy!
And at the end of this article I want to give some practical safety tips. So, be careful when working with the children to create another model crafts. Remember that piercing and cutting items are not allowed near a child younger than 5 years. Furthermore, even if your baby has long crossed the age barrier, all his actions must take place under your strict supervision.
And if you want to create a wire jewelry and accessories, you will never buy stuff in DIY stores. This case has been specially treated wire, which can be reserved in the shop handy people.
Compliance with these simple rules will not only protect you from injury, but also bring a lot of fun in the process. We wish you success and inspiration!

Dear readers, we are pleased to accept your gratitude, as well as criticism and any comments. Together we make this website better.
Articles made of wire for the garden
Today, a large number of people to decorate your garden using a variety of items, such may include wire and diverse metal.
Such materials are well suited for the creation of garden sculptures, welded objects and structures. In this article, we will consider as a material for creating sculptures and decorative items to give the basic material is wire.
This material is not difficult to buy, sell wire is always in great demand. Most truckers make their choice in favor of the wire is not just on their preferences.
This is due to the fact that the wire can make almost any kind, with the help of this material can be made part of a small size, demonstrate the movement, and also give free rein to their fantasies.
Which articles from wire do?
In order to make the decoration in your garden site exclusivity, it is necessary to produce handicrafts in a single copy. The originality of your sculpture from wire betray the fact that you have made it yourself.
These garden ornaments details will give your site a sort of fabulous views and originality, and articles made of wire are used in the interior premises.
A large number of people are engaged in a garden ornament crafts made of wire, they say that the right choice of the decorative element is an interesting and attractive garden feature.
The main things is that you need to understand in the manufacture of products with their hands from a wire for personal garden plot, then that the product was not a separate entity, which does not fit into the overall atmosphere and garden views.
For example, to decorate your garden topiary can be made, or how to say it in other words, the original garden sculpture. To sculpture fits well in your garden you need to take into account the conditions of your garden landscape.
Only in this case, crafts for the garden will be an indicator of a garden plot of individuality and deliver exclusive landscape composition.
Unusual crafts out wire
Here are some examples of unusual craft wire, which will serve as the decoration of your garden plot:
Unique Stand decorative lamp, vase, or support for flowers.
Original BBQ, which can be made in the form of any animal.
Articles made of wire of various species may resemble the shape of a bird or animal, a character from the cartoon or fairy tales, you can also make a wire logo or sign.
Pergola or arch will serve as an independent functional object in your garden.
The frame of the wire, which in the future can overgrow some plants and mow, using artistic skills.
In order to have your articles made of wire were the most resistant, it is necessary to make a steel base, which can also be equipped with a stand on wheels, this gives you the ability to move easily hack.
To make the shape of the finished look and also to ensure its preservation for a long time, the product should be treated with anticorrosive agents and color paint.
This detail is very important to consider if the sculpture is in a public place.
Also for garden decoration can be made from a wide variety of wire independently animals that will always delight you with their presence. On the example we describe the technology of manufacturing of some of them.
How to make crafts out of wire
In order to make the kitten you will need a wire made of aluminum or copper, a small section. The first step is to cut the two elements of thin copper or aluminum wire of 150 mm, and an additional piece of 180 mm.
For the manufacture of a kitten paws small pieces of wire bent into an arc. As the body and tail of our pet will be the longest segment.
Next, details of the data should wrap a thin wire with a colored coating. The head is made of clay, but the ears, nose, eyes and whiskers using colored paper or cardboard, and some parts can be made of wire.
Note one more animal that belongs to our theme crafts for garden. Decorative horse will give your garden a very attractive appearance. In order to produce such a miracle you need the thick wire of aluminum or copper wire, and also a small section in the shell.
At the beginning of the manufacturing process is necessary to prepare two pieces of thick wire 150 mm in size and one piece is also 220 mm. For the manufacture of horse feet short wire must be bent at an angle.
For the body and the head will serve us a long piece, which is bent in a certain shape of a horse. Further, our items must be secured to each other and wrap a thin wire with a colored coating.
As we will mane wire, bent in the form of rings of large size, and the tail of a few ends. wire should be wound several times for the manufacture of hooves.