Pumpkin-potato pancakes
Most delicious squash-potato pancakes with sour cream sauce. Fritters of potatoes and zucchini - is a cross between squash pancakes and fritters. Adding zucchini fritters makes juicier and more nourishing potato pancakes and helps to gain a crispy browned surface. Potato and Pumpkin pancakes - it's a great summer dinner, especially during the season of vegetable marrows, courgettes when from his garden.
Zucchini (young) - 2-3 pieces (about 300 g)
Potatoes - 4-5 pcs
Eggs - 2 pcs
Flour - 3-4 tablespoons. spoons
Fresh herbs - 1 small bunch (I used dill)
Spices - to taste (I added paprika)
Ground black pepper - to taste
Salt - to taste
Sour - 200 g
Fresh dill - 2-3 sprigs
Garlic - 2-4 cloves
Salt - to taste
So, to prepare pancakes made from potatoes and zucchini to begin to prepare the vegetables. Zucchini, wash and grate. If desired, you can clean the zucchini, but this procedure is not mandatory, ie. A. Skin young squash is not hard and it is suitable for food. Lightly salt the grated zucchini and set aside for 5-10 minutes, they let the juice, and then press them.
Wash potatoes, peel and grate on a grater same as zucchini. Rub the potatoes can be into the same container where the courgettes lie.
Dill finely chop and place in a potato with courgettes. Season with salt and pepper batter, add the eggs and paprika. So it will be very tasty, if instead of dill add green onions.
Thoroughly mix all and add the flour.
Mix again. You get here is moderately stiff dough that is very easy to spread with a spoon.
In frying pan, heat a little vegetable oil, put the dough using a large spoon and gently smooth out pancakes.
Marrow fritters fry potatoes over medium heat until golden first one side and then the other.
In the meantime, fried pancakes, make them sour cream dressing. Connect cream passed through a press garlic and chopped dill. Add salt and mix thoroughly all.
Squash, potato pancakes are ready, they can lodge in the cold and hot equally tasty, especially with sour cream dressing.
Fritters of zucchini and potatoes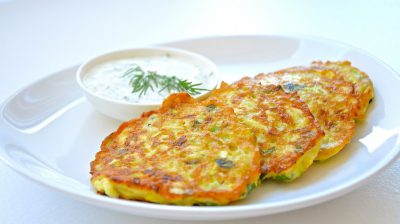 Pumpkin pancakes all good, except that their preparation requires a lot of flour or other binders. Much easier to bake fritters of zucchini and potatoes, which included initially a lot of starch. In addition, it turns out the dish tasty, hearty and tender. Many squash-potato pancakes like even more than one of the usual zucchini or potato pancakes. In addition, this dish has a variety of cooking options, which makes it possible to select a recipe for every taste.
Cooking fritters of zucchini and potatoes need almost as much as potato pancakes. Make delicious pancakes and level of these vegetables can even inexperienced hostess, if he knows a few things and take them into account.
To fritters of zucchini and potatoes turned out beautifully, for chopping vegetables, use a grater with holes of the same size.
Vegetables can be rubbed on a coarse or fine grater, but they grind in a blender is undesirable because of this test may be too liquid to thicken it will take a lot of flour.
Chopped vegetables must be overcome in order to remove excess liquid. Potato juice is better collected in a separate container to after can be drained carefully and keep the rest on the bottom of the starch. His return to the dough for a higher density.
Fritters of zucchini and potatoes do not darken, if the dough add chopped onion. Onion can be chopped or coarsely grate.
Appetizing ruddy fritters and vegetables are only in the event that they fry in hot skillet in a lot of oil. However, excessive oil must be removed. To do this, you need to put the pancakes on a napkin that quickly absorb excess fat.
Typically pancakes zucchini and potatoes served with sour cream, but other feeding alternatives. The most original - with applesauce, most diet - with low-fat yogurt.
A simple recipe for fritters of zucchini and potatoes
zucchini - 0.5 kg;
potatoes - 0.2 kg;
Wheat flour - 100 g;
egg - 1 pc .;
salt and pepper - to taste;
vegetable oil - as necessary.
Wash zucchini, peel. Cut in half and remove the seeds with a spoon. The pulp grate on fine grater. If young zucchini, their previously not treated and only washed and dried with a towel, cut off the nose and tail.
Peel the potatoes, finely grate it in a separate bowl.
Press through a potato. Drain let stand for 5 minutes and then pour it, leaving settled to the bottom of starch. Return it to the potatoes.
Press squash puree. Courgettes connect with potatoes.
Salt and pepper the vegetables, add the egg and stir.
Thicken the dough using flour, adding it in small portions.
Heat the oil in a frying pan. Put a tablespoon of dough on it. When the pancakes with toasted one side, turn them spatula and fry until cooked.
This simple recipe is one of the classic, but there are also other not less popular and well-known recipes, which are also considered to be traditional. For example, often fritters of zucchini and potatoes cooked with onions, carrots, garlic, fresh herbs.
Fritters of zucchini and potatoes with onions and carrots
zucchini - 0.5 kg;
potatoes - 0.5 kg;
chicken egg - 1 pc .;
wheat flour - 80 g;
Onions - 100 g;
carrot - 100 g;
salt and pepper - to taste;
turmeric - pinch;
vegetable oil - as necessary.
Zucchini, peel and seeds, grate coarsely and fold in a colander. After 20 minutes, squeeze them and transfer to a bowl.
Clean and chop the carrots on a fine grater, add the zucchini.
Clear from the husk of the bulb. Finely chop it with a knife, mix with the remaining vegetables.
Peel the potatoes, coarsely grate, add to the bowl with other vegetables, stir them.
Divide the vegetables in egg, add salt and spices. Mix well.
Add flour and stir until then, until the dough will not get a smooth consistency.
Fry the pancakes on both sides in hot oil, spreading them on a hot frying pan tablespoons of slightly flattening.
Serve with any milk products: with low-fat sour cream, white yogurt, yogurt. At the same time a good idea to sprinkle the dish with fresh herbs, finely chopped with a knife.
Fritters of zucchini and potatoes with garlic and dill
zucchini - 0.25 kg;
Potatoes - 0.25 kg;
Onions - 75 g;
Garlic - 3 cloves;
fresh dill - 100 g;
chicken egg - 1 pc .;
wheat flour - 40 g;
White yoghurt - 0,25;
salt and pepper - to taste;
vegetable oil - as necessary.
Garlic pass through the press, dill finely chop with a knife, mix and divide into 3 parts. One part of the mix with yogurt - it will be dressing for pancakes. Leave the rest for making pancakes themselves.
Onions grate, after removing it from the chaff.
Mix the onion puree with garlic and dill.
Peel the potatoes, grate finely and squeeze. Put the potatoes in a bowl with other ingredients, but the potato juice until pour: wait until the starch will settle to the bottom, pour liquid starch and put the vegetables.
Rub on a small grated zucchini, fold in a sieve and let it sit for 10 minutes. Press and transfer to a bowl with other vegetables.
Pepper and salt the vegetables, add them to the egg mix.
Add flour and stir well to consistency in the test was flat.
Fry the fritters in hot oil, put on a napkin to have a glass too much oil.
Serve cooked in this recipe pancakes with yoghurt and garlic sauce made earlier. However, it can be replaced and the usual sour cream.
Fritters of zucchini and potatoes with watercress
zucchini - 0.25 kg;
potatoes - 0.3 kg;
watercress - 50 g;
chicken egg - 1 pc .;
wheat flour - 30 g;
potato starch - 5 g;
grated nutmeg - a pinch;
salt - to taste;
vegetable oil - as necessary;
apple sauce - to taste.
Peel and chop coarsely grated zucchini and potatoes. Put them in a colander, squeeze in 15 minutes and transfer to a bowl.
Coarsely chop the knife watercress, add to the vegetables.
Divide the vegetables in a bowl with the egg and mix.
Stir spices, salt, flour and starch. Stir until homogeneous.
Fry on both sides. Having laid out on a cloth, wait until it absorbs excess oil.
Fed pancakes, prepared according to the recipe, and apple puree. Of course, it should be no added sugar: just peel and finely grate the fresh apples.
Fritters of zucchini and potatoes are traditional dishes of many Slavic cuisine, but there are unusual their recipes that will seriously diversify the menu and discover new tastes familiar dishes.
Fritters of zucchini and potatoes
Cooking time: Not indicated
The only problem during cooking courses - I do not have time to fry the tortillas: only posted one serving on a plate and doing another as husband and son right there, beginning to try, what have I got. As a result, in order to prepare oladki for breakfast, I have to close the door to the kitchen, another cooking process can last long enough.
I usually do a dish of milk zucchini, but if you come across an old - it does not matter, in this case, I just cut out the flesh with large seeds and be sure to purify fruit peel, and what remains is ground on a grater. Also I rub peeled potatoes and onions, and then to this mixture add fine-cut dill (can be any other herbs), spices and salt. To make the dough had a viscous consistency, be sure to put the eggs and flour.
Fry fritters of zucchini and potatoes in oil, odorless until brown on both sides. Cooking is best to take a ceramic pan or with a special coating, then it just did not stick.
- Potato tubers - 4 units.
- zucchini fruit - 1 units.
- chicken egg table - 2 pcs.
- herbs (dill, parsley) - a pair of branches,
- wheat flour - 0.5 - 1 CT.
- finely ground salt - to taste,
- spices - to taste,
- vegetable oil - a couple of tablespoons.
First, wash the fruit zucchini from dirt. If necessary, peeled and cut flesh from the seeds. Then rub the squash on a fine grater and squeeze a little juice from the mass.
Washed potato tubers are peeled, milled the same as zucchini, grated.
Clean the onions from the husk, wash and rub into small grater into a smoothie.
Add salt and spices.
Whisk the eggs in a separate container.
We introduce them to the rest of the ingredients.
Further parts Pour the sifted flour.
And knead the dough is sticky.
Greens finely shinkuem and add to the dough. Stir.
The well-heated pan, pour in the oil and lay out cakes using a tablespoon. Then gently remove the fire and fry them a few minutes until it browns.
Then we turn over to the other side and fry until brown.
So prepare all oladki.
Fritters of zucchini and potatoes to the table We serve with sour cream or sauce.
Delicious pumpkin pancakes are also obtained in the yogurt, I advise you to try. Bon Appetit!